Relación entre la disfunción en la integración sensorial y la anorexia y bulimia nerviosas: una revisión bibliográfica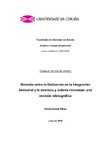 Collections
Title
Relación entre la disfunción en la integración sensorial y la anorexia y bulimia nerviosas: una revisión bibliográfica
Author(s)
Directors
Gándara Gafo, Berta
Santos del Riego, Sergio

Date
2019-06
Center/Dept./Entity
Universidade da Coruña. Facultade de Ciencias da Saúde
Description
Traballo fin de grao (UDC.FCS). Terapia ocupacional. Curso 2018/2019
Abstract
[Resumen] Introducción: La anorexia y la bulimia nerviosas son trastornos de la conducta alimentaria y de la ingesta de alimentos, vinculados a los problemas de procesamiento sensorial, que interfieren en la participación ocupacional. Objetivos: Analizar la documentación científica existente que relaciona la anorexia y la bulimia nerviosas con los problemas de procesamiento sensorial. Metodología: Se realizó una búsqueda bibliográfica y un análisis de los documentos extraídos de 5 bases de datos. Tras la obtención de los resultados iniciales, se procedió a la eliminación de los duplicados para la posterior aplicación de los criterios de inclusión y exclusión establecidos. Finalmente, se analizaron 38 documentos, considerando diferentes variables a examinar. Resultados: La mayor parte de los estudios han sido publicados a partir del año 2008. Las investigaciones muestran mayor representación del género femenino que del masculino y relacionan la anorexia y bulimia nerviosas con problemas de reactividad y percepción sensorial, incluyendo la percepción interoceptiva. Conclusiones: No existe un perfil sensorial característico o específico de las personas con anorexia o bulimia nerviosas, ya que se detecta heterogeneidad en relación a los problemas de reactividad y percepción sensorial
[Abstract] Introduction: Anorexia and bulimia nervosa are eating disorders and food intake disorders linked to sensory processing problems, which interfere with occupational participation. Objectives: To analyse the existing scientific documentation relating anorexia and bulimia nervosa to sensory processing problems. Methodology: A bibliographic search and an analysis of the documents extracted from 5 databases were carried out. After obtaining the initial results, the duplicates were eliminated for the subsequent application of the established inclusion and exclusion criteria. Finally, 38 documents were analysed, considering different variables to be examined. Results: Most of the studies have been published since 2008. Research shows a greater representation of the female gender than the male gender and relates anorexia and bulimia nervosa with reactivity and sensory perception problems, including interoceptive perception. Conclusions: There is no characteristic or specific sensory profile of people with anorexia or bulimia nervosa, due to the existing heterogeneity in relation to reactivity and sensory perception problems.
Keywords
Integración sensorial
Reactividad sensorial
Percepción sensorial
Anorexia nerviosa
Bulimia nerviosa
Sensory integration
Sensory reactivity
Sensory perception
Related items
Showing items related by title, author, creator and subject.
Caballero, María

(

Universidade da Coruña

,

2005

)

Payán Martín, Juan Jesús

(

Universidade da Coruña

,

2005

)

Pellús, Elena

(

Universidade da Coruña

,

2005

)