Analisis multinivel con variables categóricas. Ejemplo: confianza en la plutocracia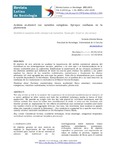 View/Open

Except where otherwise noted, this item's license is described as Atribución-CompartirIgual 3.0 España
Collections
Title
Analisis multinivel con variables categóricas. Ejemplo: confianza en la plutocracia
Alternative Title(s)
Multilevel analysis with categorical variables: example, trust in plutocracy
Author(s)
Date
2016
Citation
Revista Latina de Sociología,2016,6(1):1-26.ISSN: 2253-6469
Abstract
[Resumen] El objetivo de este artículo es analizar la importancia del ámbito contextual además del individual en las investigaciones sociales, políticas o de otro tipo y el funcionamiento de la técnica multinivel para su aplicación. Explicamos la importancia de las técnicas multinivel y los distintos modelos que debemos de tener en cuenta para realizar los análisis y así poder explicar los efectos de las variables individuales, contextuales y finalmente los efectos aleatorios del nivel agregado (en este caso los países). Todo ello lo desarrollamos para cuando la variable dependiente es dicotómica. Ejemplificamos con el análisis de a un caso concreto, la confianza de los ciudadanos en exclusiva en el Banco Central Europeo.
[Abstract] The aim of this article is to analyse the importance of contextual considerations in research of a social, political or other nature and how the multilevel technique works in terms of their application. We provide an insight into the key role played by multilevel techniques and the various models that must be taken into consideration in order to carry out the analyses and thereby provide an explanation for the effects of individual and contextual variables and lastly the random effects of the aggregate level (in this case, the countries). Said analysis is applied when the dependent variable is dichotomic. Our analysis is supported by a specific case study, namely citizens' exclusive confidence in the European Central Bank.
Keywords
Factores contextuales
Técnica multinivel
Stata xtmelogit
Respuestas categóricas
Variables individuales
Variables contextuales
Plutocracia
Contextual factors
Multilevel technique
Categorical responses
Individual variables
Contextual variables
Plutocracy
Editor version
Rights
Atribución-CompartirIgual 3.0 España
ISSN
2253-6469
Related items
Showing items related by title, author, creator and subject.
Fernández-del-Olmo, Miguel

;

Cudeiro Mazaira, Francisco Javier

(

Elsevier

,

2004

)

[Abstract] It has been suggested that sequential movements in patients with Parkinson's disease (PD) might be improved by the effects of external rhythmic cues. We studied spatiotemporal gait parameters and temporal gait ...

Mariño Pérez, Cástor

(

2006

)

[Resumen] En esta tesis se aborda el alineamiento automático de imágenes médicas. Cuando se dispone de imágenes de un paciente obtenidas en distintos instantes de tiempo o capturadas empleando distintas técnicas ...

Lema Moreira, Estefanía

(

2015

)

[Resumen] La violencia de hijos hacia sus padres es cada vez más frecuente. Paralelamente, la comunidad científica muestra cada vez más interés en este fenómeno, en el que continúa habiendo importantes lagunas. El ...