Cabazitaxel for metastatic castration-resistant prostate cancer: safety data from the Spanish expanded access program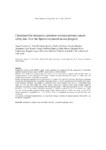 View/Open
Title
Cabazitaxel for metastatic castration-resistant prostate cancer: safety data from the Spanish expanded access program
Author(s)
Date
2014-07-07
Citation
Castellano D, Antón Aparicio LM, Sánchez Hernández A, et al. Cabazitaxel for metastatic castration-resistant prostate cancer: safety data from the Spanish expanded access program. Expert Opin Drug Saf. 2014; 13(9): 1165-1173
Abstract
[Abstract] BACKGROUND: Based on the TROPIC study results, cabazitaxel was approved for the management of metastatic castration-resistant prostate cancer (mCRPC) progressing on or after docetaxel. METHODS: This multi-centre program provided early access to cabazitaxel to patients with mCRPC before its commercialization. Safety data from 153 Spanish patients receiving cabazitaxel 25 mg/m(2) i.v. Q3W, plus oral prednisone/prednisolone 10 mg daily, are reported. RESULTS: Median age of patients was 70 years (26.8% ≥ 75 years), 94.1 and 26.8% had bone and visceral metastasis, respectively. Most had an Eastern Cooperative Oncology Group ≤ 1 (88.9%) and had received a median of 8.0 cycles of last docetaxel treatment. The median of cabazitaxel cycles and cumulative dose were 6.0 (Interquartile range [IQR]: 4.0; 8.0) and 148.9 (IQR: 98.2; 201.4) mg/m(2), respectively. Adverse events (AEs) possibly related to cabazitaxel occurred in 143 (93.5%) patients. The most frequent grade ≥ 3 AEs were neutropenia (n = 25, 16.3%) and asthenia (n = 17, 11.1%). Febrile neutropenia and grade ≥ 3 diarrhea occurred in 5.2% of the patients each. There were five (3.3%) possibly treatment-related deaths, mainly infection-related. G-CSFs were used in 114 (74.5%) patients, generally as prophylaxis (n = 107; 69.9%). Grade ≥ 3 peripheral neuropathy and nail disorders were uncommon. CONCLUSIONS: Cabazitaxel administration, in a real-world setting, is tolerated by Spanish patients with mCRPC, and the AEs are manageable.
Keywords
Cabazitaxel
Compassionate use studies
Docetaxel
Prostatic neoplasms
Safety
Editor version
Rights
Thsi is an accepted manuscript of an article published by Taylor & Francis in Expert Opinion on Drug Safety, avaliable online at Taylor & Francis Online.
ISSN
1474-0338