Terapia ocupacional y envejecimiento activo: programa de intervención en el ámbito rural de León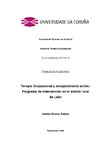 Collections
Title
Terapia ocupacional y envejecimiento activo: programa de intervención en el ámbito rural de León
Author(s)
Directors
Ávila-Álvarez, Adriana
Ramos Veiguela, Daniel

Date
2018
Center/Dept./Entity
Universidade da Coruña. Facultade de Ciencias da Saúde
Description
Traballo fin de grao (UDC.FCS). Terapia ocupacional. Curso 2017/2018
Abstract
[Resumen] Introducción: Debido al envejecimiento que sufre la población española, en especial en las zonas rurales donde los recursos sociales se ven reducidos, hace que sea necesaria una intervención por parte de profesionales que permita a estas personas mayores mantenerse activas e integradas en la comunidad. Por lo tanto, el presente proyecto consiste en elaborar desde terapia ocupacional un programa de envejecimiento activo centrándonos en los tres pilares fundamentales, el bienestar físico (salud), participación (en la sociedad de acuerdo con las necesidades, capacidades y deseos de las personas mayores, tanto individual como colectivamente) y el social (la seguridad, la protección y los cuidados a las personas que necesitan asistencia). Con el objetivo de mejorar la calidad de vida de las personas en el ámbito rural de León. Objetivo: Evaluar la eficacia de un programa de envejecimiento activo desde Terapia Ocupacional para mejorar la calidad de vida de las personas mayores que viven en un entorno rural de León. Metodología: Se realiza el estudio desde la perspectiva de investigación mixta; cualitativa: con un estudio descriptivo y un enfoque fenomenológico, y cuantitativa: con un estudio experimental, prospectivo, antes-después. Para el proceso de recogida de datos se utilizará la entrevista semiestructurada, Listado de intereses de kielhofner, Test de Pfeiffer, la Escala Fumat, un Cuestionario de satisfacción, el cuaderno de campo y la observación participante.
[Resumo] Introdución: Debido ao envellecemento da poboación española, especialmente nas zonas rurais onde se reducen os recursos sociais, require a intervención dos profesionais para que estas persoas maiores poidan permanecer activas e integradas na comunidade. Polo tanto, o presente proxecto consiste en desenvolver dende a terapia ocupacional un programa de envellecemento activo enfocado nos tres piares fundamentais, o benestar físico (saúde), participación (na sociedade segundo as necesidades, capacidades e desexos das persoas anciáns, individuais e colectivamente) e socialmente (seguridade, protección e coidado para as persoas que precisan asistencia). Co obxectivo de mellorar a calidade de vida das persoas nas zonas rurais de León Obxectivo: Avaliación da eficacia dun programa de envellecemento activo da Terapia Ocupacional para mellorar a calidade de vida das persoas maiores que viven nunha zona rural de León. Metodoloxía: O estudo realízase desde a perspectiva da investigación mixta. cualitativa: cun estudo descritivo e un enfoque fenomenolóxico e cuantitativo: cun estudo experimental, prospectivo, antes e despois. Para o proceso de recollida de datos, utilizarase a entrevista semiestruturada, a lista de intereses kielhofner, a proba Pfeiffer, a escala Fumat, un cuestionario de satisfacción, o caderno de campo e a observación participante.
[Abstract] Introduction: Due to the aging of the Spanish population, especially in rural areas where social resources are reduced, it requires intervention by professionals to enable these elderly people to remain active and integrated into the community. Therefore, the present project consists in developing from occupational therapy a program of active aging focusing on the three fundamental pillars, the physical (health), participation (in society according to the needs, capacities and desires of the people elderly, both individually and collectively) and socially (safety, protection and care for people who need assistance). With the aim of improving the quality of life of people in rural areas of León. Objective: To evaluate the efficacy of an active aging program from Occupational Therapy to improve the quality of life of elderly people living in a rural setting in León Methodology: The study is carried out from the perspective of mixed research; qualitative: with a descriptive study and a phenomenological, and quantitative approach: with an experimental, prospective, before-after study. For the data collection process, the semi-structured interview, the kielhofner interests list, the Pfeiffer test, the Fumat scale, a satisfaction questionnaire, the field notebook and the participant observation.
Keywords
Terapia ocupacional
Personas mayores
Envejecimiento activo
Entorno rural
Calidad de vida
Persoas maiores
Envellecemento activo
Calidade de vida
Occupational therapy
Elderly people
Active aging
Rural environment
Quality of life
Rights
Os titulares dos dereitos de propiedade intelectual autorizan a visualización do contido deste traballo a través de Internet, así como a súa reproducción, gravación en soporte informático ou impresión para o seu uso privado e/ou con fins de estudo e de investigación. En nengún caso se permite o uso lucrativo deste documento. Estos dereitos afectan tanto ó resumo do traballo como o seu contido Los titulares de los derechos de propiedad intelectual autorizan la visualización del contenido de este trabajo a través de Internet, así como su repoducción, grabación en soporte informático o impresión para su uso privado o con fines de investigación. En ningún caso se permite el uso lucrativo de este documento. Estos derechos afectan tanto al resumen del trabajo como a su contenido