Intervención domiciliaria de terapia ocupacional en daño cerebral adquirido: una aproximación desde diferentes perspectivas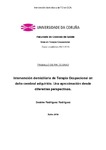 Collections
Title
Intervención domiciliaria de terapia ocupacional en daño cerebral adquirido: una aproximación desde diferentes perspectivas
Author(s)
Directors
Germán Abad, Tatiana
Pousada, Thais

Date
2018
Center/Dept./Entity
Universidade da Coruña. Facultade de Ciencias da Saúde
Description
Traballo fin de grao (UDC.FCS). Terapia ocupacional. Curso 2017/2018
Abstract
[Resumen] Objetivos: por un lado, explorar y comprender la perspectiva de los usuarios, familias y terapeutas ocupacionales sobre la intervención domiciliaria de TO en personas con DCA y por otro lado, identificar los posibles beneficios de dicha intervención. Metodología: se ha empleado una metodología cualitativa, bajo un enfoque fenomenológico para tratar de comprender la experiencia vivida por los participantes y profundizar en el significado que le dan a dicha experiencia. Se han realizado entrevistas semi-estructuradas a usuarios y familias con DCA, así como a terapeutas ocupacionales que trabajan o han trabajado con esta población. Resultados: Tras el análisis de la información recogida han surgido diferentes categorías emergentes: "percepción de la necesidad de demanda de atención domiciliaria", "la realidad de los servicios ofrecidos por los centros", "continuidad asistencial insuficiente tras el alta hospitalaria", "beneficios de las intervenciones de TO a domicilio", "involucración de las familias en el proceso", "cambio de roles y ocupaciones significativas" y "nuevos roles y ocupaciones asumidos por los familiares". Discusión y conclusiones: los testimonios advierten que la desinformación y el desconocimiento sobre la labor de la TO en los domicilios es generalizada, lo que se relaciona con la escasa demanda de estas sesiones. A pesar de que el trabajo en el hogar, junto con la importancia del respeto de las rutinas familiares, fomenta la adherencia al tratamiento y facilita la generalización de lo aprendido por los usuarios y las familias con DCA.
[Abstract] Objectives: On one hand, exploring and understanding the perspective of users, families and occupational therapists regarding home-care services of occupational therapy on people with acquired brain injuries and, on the other hand, identifying the possible benefits of said intervention. Methodology: A qualitative methodology has been implemented, following a phenomenological approach to try to understand the experiences encountered by the participants and delve into the meaning acknowledged to this experience. Semi-structured interviews were held with users and families with acquired brain injuries, as well as with occupational therapists that currently work or have previously worked with this population. Results: Based on the analysis of the collected data, different emergent categories appear: "perception of the necessity of the request of home- care services", "the reality of services provided by the centers", "insufficient care continuity after hospital discharge", "benefits of home- care services of occupational therapy", "family involvement in the procedure", "role change and significant occupations" and "new roles and occupations taken over by the family". Discussion and conclusion: The testimonies inform that lack of information and ignorance about the work of occupational therapy at homes is widespread, closely related to the scarce number of requests of these sessions. This is in spite that working at home, taking into account the importance of respect to family routines, encourages the adhesiveness to the treatment and enables users and families with acquired brain injuries to generalize what they had learned.
[Resumo] Obxectivos: Por un lado, explorar e comprender a perspectiva dos usuarios, familias e terapeutas ocupacionais sobre a intervención domiciliaria de TO en persoas con DCA e por outro lado, identificar os posibles beneficios de dita intervención. Metodoloxía: Foi utilizada unha metodoloxía cualitativa, baixo un enfoque fenomenolóxico para tratar de comprender a experiencia vivida polos participantes e profundizar o significado que lle dan a dita experiencia. Foron realizadas entrevistas semi-estruturadas a usuarios e familias con DCA, así como a terapeutas ocupacionais que traballan ou traballaron con esta poboación. Resultados: A partires da análise da información recollida xorden diferentes categorías emerxentes: "percepción da necesidade de demanda da atención domiciliaria", "a realidade dos servizos ofrecidos polos centros", "continuidade asistencial insuficiente tras a alta hospitalaria", "beneficios das intervencións de TO a domicilio", "involucración das familias no procedemento", "cambio de roles e ocupacións significativas" e "novos roles e ocupacións asumidos polos familiares". Discusión e conclusións: Os testemuños advirten que a desinformación e o descoñecemento sobre o labor da TO nos domicilios é xeralizada, o que se relaciona coa escasa demanda destas sesións. Isto ocorre a pesar de que o traballo no fogar, xunto coa importancia do respecto ás rutinas familiares, fomenta a adherencia ao tratamento e facilita a xeralización do aprendido polos usuarios e as familias con DCA.
Keywords
Terapia ocupacional
Dano cerebral adquirido
Domicilio
Hogar
Occupational therapy
Acquired brain injuries
Home
Dano cerebral adquirido
Fogar
Rights
Os titulares dos dereitos de propiedade intelectual autorizan a visualización do contido deste traballo a través de Internet, así como a súa reproducción, gravación en soporte informático ou impresión para o seu uso privado e/ou con fins de estudo e de investigación. En nengún caso se permite o uso lucrativo deste documento. Estos dereitos afectan tanto ó resumo do traballo como o seu contido Los titulares de los derechos de propiedad intelectual autorizan la visualización del contenido de este trabajo a través de Internet, así como su repoducción, grabación en soporte informático o impresión para su uso privado o con fines de investigación. En ningún caso se permite el uso lucrativo de este documento. Estos derechos afectan tanto al resumen del trabajo como a su contenido