Plasma mitochondrial DNA levels are inversely associated with HIV-RNA levels and directly with CD4 counts: potential role as a biomarker of HIV replication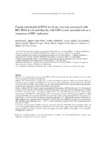 Title
Plasma mitochondrial DNA levels are inversely associated with HIV-RNA levels and directly with CD4 counts: potential role as a biomarker of HIV replication
Author(s)
Date
2017-08-31
Citation
Pernas B, Rego-Pérez I, Tabernilla A, Balboa V, Relaño S, Grandal M, et al. Plasma mitochondrial DNA levels are inversely associated with HIV-RNA levels and directly with CD4 counts: potential role as a biomarker of HIV replication. J Antimicrob Chemother. 2017;72(11):3159-3162
Abstract
[Abstract] Objectives. To evaluate plasma mitochondrial DNA (mtDNA) levels among HIV-infected patients and its potential role as a biomarker of residual viral replication. Methods. HIV-infected patients on follow-up at a reference hospital in north-west Spain were selected. DNA was isolated from plasma samples and mtDNA levels were assessed using a quantitative real-time PCR assay. HIV-RNA levels and CD4+ cell counts were evaluated in the same blood samples used for plasma mtDNA quantification. Epidemiological and clinical variables were included for the analysis. Results. A total of 235 HIV-infected patients were included. Mean plasma mtDNA levels were 217 ± 656 copies/μL for naive (31.9%) and 364 ± 939 copies/μL for HIV-infected patients receiving ART and with suppressed viraemia (P = 0.043). Among the latter, mean plasma mtDNA levels were 149 ± 440 copies/μL for those with low-level viraemia (LLV; HIV-RNA 20–200 copies/mL), 265 ± 723 copies/μL for those with detected-not-quantified (DNQ) viraemia (HIV-RNA <20 copies/mL) and 644 ± 1310 copies/μL for those with not-detected (ND) viraemia. Of note, a linear trend (P = 0.006) was observed among virologically suppressed (LLV, DNQ and ND) patients. ND patients had higher mtDNA levels compared with LLV patients (P = 0.057). Moreover, mtDNA levels were inversely associated with HIV-RNA levels (Spearman's rho −0.191, P = 0.003) and directly associated with CD4+ counts (Spearman's rho 0.131, P = 0.046). Conclusions. Increased plasma mtDNA levels are associated with lower HIV-RNA levels and higher CD4+ cell counts. Among ART-suppressed patients, mtDNA levels were significantly higher in those with complete virological suppression (ND) than in those with LLV. These data suggest that plasma mtDNA levels might serve as a biomarker of residual HIV replication.
Keywords
HIV
Biological makers
CD4 count determination procedure
DNA
Mitochondrial
Plasma
Viremia
Virus replication
Virology
Blood HIV RNA
HIV infection
Editor version
Rights
This is a pre-copyedited, author-produced version of an article accepted for publication in "Journal of Antimicrobial Chemotherapy following peer review. The version of record is avaliable online at Oxford Academic web page.
Publicado por Oxford University en nombre de British Society for Antimicrobial Chemotherapy
ISSN