Releyendo El Criticón. Notas y anotaciones al filo de la traducción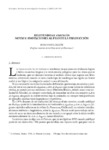 View/Open
Collections
Title
Releyendo El Criticón. Notas y anotaciones al filo de la traducción
Author(s)
Date
2007
Citation
Conceptos revista de investigación graciana, 4: 89-104 ISSN 1697-2775
Abstract
[Resumen] La traducción al idioma francés de El Criticón de Baltasar Gracián ha permitido una relectura que favorece nuevas anotaciones a la obra y una nueva visión de su estructura que Benito Pelegrín aporta en este trabajo. Se ofrecen aclaraciones acerca de personajes o eventos que otros editores no supieron establecer. Se añade al final una bibliografía actualizada de los trabajos de Pelegrín sobre la obra de Gracián.
[Sommaire] La traduction du Criticón de Baltasar Gracián en français a permis une relecture qui favorise de nouvelles annotations sur l'oeuvre et offre une nouvelle vision de sa structure que Benito Pelegrín aborde dans ce travail. Sont apportés des éclaircissements à propos des personnages ou des évènements que d'autres éditeurs n'ont pas su établir. Nous ajoutons à la fin une bibliographie actualisée des travaux de Pelegrín sur l'oeuvre de Gracián.
[Abstract] The translation into French of El Criticón by Baltasar Gracián has allowed a re-reading that favors new annotations to the work and a new vision of its structure that Benito Pelegrín contributes in this work. Explanations about particular characters or events that other editors could not establish are now offered. An updated bibliography of Pelegrín's works on Gracián's work is offered at the end.
Keywords
Baltasar Gracián
Siglo de Oro
El Criticón
Baltasar Gracián
Siècle d'Or espagnol
El Criticón
Baltasar Gracián
Spanish Golden Age
El Criticón
ISSN
1697-2775