Los contextos del saber y El Criticón de Gracián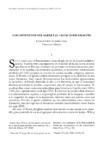 View/Open
Collections
Title
Los contextos del saber y El Criticón de Gracián
Author(s)
Date
2005
Citation
Conceptos, 2005, 2: 083-096 ISSN 1697-2775
Abstract
[Resumen] El artículo ofrece un análisis de la situación de la universidad y de las directrices fundamentales de las disciplinas, estudios y reglas de comportamiento del buen estudiante durante los siglos XVI y XVII. Posteriormente analiza en El Criticón las instituciones y los lugares en los que se encuentra el saber que son, a priori, la universidad y la corte, y su lugar concreto y visible que es la biblioteca; aunque Gracián lo expulsa de allí para construir las bases de la adquisición de la sabiduría en la práctica y en el sujeto.
[Sommaire] L'article offre une analyse de la situation de l'université et des directrices fondamentales de la discipline, des études et des règles de conduite du bon étudiant durant les XVIe et XVIIe siècles. Par la suite, il analyse dans El Criticón les institutions et les lieux dans lesquels se trouve le savoir qui sont, à priori, l'université et la cour, et son lieu concret et visible qui est la bibliothèque. Toutefois, Gracián rejette cette idée pour construire les bases de l'acquisition de la sagesse sur la pratique et le sujet.
[Abstract] The article offers an analysis of the situation of the university and of the fundamental directives of the disciplines, studies and rules of behavior of the "good student" during the 16th and 17th century. It goes on to analyze institutions and the places in El Criticón in which knowledge is found. A priori, the university and the court, and its concrete and visible setting, which is the library; though Gracián expels it from there in order to set the basis of the acquisition of wisdom in practice and in the subject.
Keywords
Baltasar Gracián
Siglo de Oro
Humanismo
Filosofía
Saber
Baltasar Gracián
Siècle d'Or espagnol
Humanisme
Philosophie
Savoir
Baltasar Gracián
Spanish Golden Age
Humanism
Philosophy
Knowledge
ISSN
1697-2775