Nuevos hábitos informativos en la era de los dispositivos móviles: el accidente de Angrois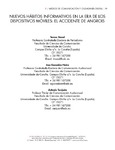 Except where otherwise noted, this item's license is described as Atribución-NoComercial-SinDerivadas 3.0 España
Collections
Title
Nuevos hábitos informativos en la era de los dispositivos móviles: el accidente de Angrois
Date
2014
Citation
Nozal Cantarero, T., González Neira, A. and Sanjuán Pérez, A. (2014). Ciudadanía Digital. In: III Congreso Internacional Sociedad Digital. [online] Madrid: Actas Icono 14, pp.79-94. Available at: http://icono14.es/actas/index.php?conference=2csd&schedConf=3csd&page=schedConf&op=presentations [Accessed 6 Oct. 2016].
Abstract
[Resumen]: La difusión de los dispositivos móviles ha modificado los hábitos de consumo informativo de los usuarios que ahora pueden conectarse a la red en cualquier momento y situación. Los estudios sobre estos hábitos de consumo se han centrado principalmente en los jóvenes por ser los consumidores de la información del futuro (Rubio Gil, 2010; Costera- Meijer, 2007; Túñez, 2009) y destacan la orientación digital, descartando la lectura de periódicos en papel (Parratt, 2010). Este trabajo realiza una aproximación a las nuevas rutinas informativas del público ante los grandes eventos. El estudio se realiza a partir del análisis de dos encuestas distribuidas por redes sociales 7 horas y 36 horas después del accidente de tren de Angrois (Santiago de Compostela) el 24 de julio de 2013. Los resultados de las encuestas aportan información sobre el medio a través del cual se recibió la noticia del accidente, si se empleó algún tipo de dispositivo móvil y cuál, el tiempo dedicado a ampliar información durante las primeras 24 horas frente al empleado transcurridas 36 horas y a través de qué medio se hizo, así como el papel que desempeñaron las redes sociales en este proceso y la interacción entre estas y el público. En definitiva, los resultados de las encuestas dibujan un panorama del uso de medios y del tipo de dispositivos a través de los que se consume información ante una noticia de envergadura.
[Abstract]: The spread of mobile devices has changed the news consumption habits of the users and now they can connect to the network at any time and situation. Studies of these habits have focused primarily on youth for being consumers of future information (Rubio Gil, 2010; Coast-Meijer, 2007; Túñez, 2009) and highlight the digital direction, discarding reading newspaper paper (Parratt, 2010). This work is an approach to new public information routines before big events. This research was conducted through the analysis of two surveys distributed on social media 7 hours and 36 hours after train crash in Angrois (Santiago de Compostela) on July 24, 2013. The survey results provide information about the means through which it received the news of the accident, if any type of mobile device was used and what the time devoted to expand during the first 24 hours versus 36 hours and through what medium is made, and the role played by social networks this process and the interaction between them and the public. In short, the survey results paint a picture of media use and the type of devices through which information is consumed before a major news.
Keywords
Hábitos de información
Medios digitales
Consumo de periodismo ante noticias de alcance
Dispositivos móviles
Redes sociales
Habits of information
Digital media
Consumer news journalism to reach
Mobile devices
Social networks
Editor version
Rights
Atribución-NoComercial-SinDerivadas 3.0 España