A sanción efectiva, proporcionada e disuasoria en caso de discriminación baseada na orientación sexual. Comentario á Sentenza do Tribunal de Xustiza da Unión Europea do 25 de abril de 2013 no asunto C-81/12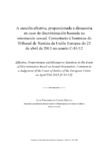 View/Open
Collections
Title
A sanción efectiva, proporcionada e disuasoria en caso de discriminación baseada na orientación sexual. Comentario á Sentenza do Tribunal de Xustiza da Unión Europea do 25 de abril de 2013 no asunto C-81/12
Alternative Title(s)
Effective, Proportionate and Dissuasive Sanctions in the Event of Discrimination Based on Sexual Orientation. Comment to a Judgement of the Court of Justice of the European Union on April 25th 2013 [C-81/12].
Author(s)
Date
2013
Citation
Anuario da Facultade de Ciencias do Traballo da Universidade da Coruña, 2013,4:493-501.ISSN: 2173-9811
Abstract
[Resumo] Este comentario trata dunha recente sentenza do Tribunal de Xustiza da Unión Europea que analiza a aplicación da igualdade de tratamento no emprego e a ocupación (Directiva 2000/78) en relación cunhas declaracións xornalísticas do propietario dun club de fútbol de Romanía en que afirmaba que xamais contrataría un xogador homosexual. O Alto Tribunal entende que a Directiva é aplicable a situacións relativas a declaracións que versan sobre as condicións de acceso ao emprego, incluídos os criterios de selección, e salienta que as especificidades da contratación de futbolistas profesionais carecen de incidencia a este respecto, xa que a práctica do deporte como actividade económica si que está comprendida no ámbito do dereito da Unión. Alén diso, o Tribunal considera que non é aceptable a existencia dunha normativa nacional por mor da cal, en caso de se revelar unha discriminación baseada na orientación sexual, sexa posible exclusivamente pronunciar unha «amoestación» se esta sanción non é efectiva, proporcionada e disuasoria.
[Abstract] This comment is on a recent judgement of the Court of Justice of the European Union that analyzes the application of the equal treatment in employment and occupation (Directive 2000/78), in relation to a media statement of the owner of a football club in Romania who declared that he would never hire a homosexual player. The High Court means that the Directive is applicable to situations relating to statements that deal with the conditions of access to employment, including selection criteria, and highlights that the specificities of the hiring of professional footballers have no implication in this regard, since the practice of sport as an economic activity falls within the scope of the Union law. In addition, the Court considers unacceptable the existence of national provisions whereby, in case of discrimination based on sexual orientation, it is possible only to pronounce an «admonition», if this sanction is not effective, proportionate and dissuasive.
Keywords
Igualdade de tratamento
Fútbol profesional
Prohibición da discriminación baseada na orientación sexual
Sanción
Equal treatment
Professional football
Prohibition of discrimination based on sexual orientation
Sanction
ISSN
2173-9811