La construcción colectiva de un portal web de centro. Una experiencia de innovación sostenible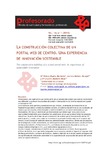 Title
La construcción colectiva de un portal web de centro. Una experiencia de innovación sostenible
Alternative Title(s)
The colaborative building of a school portal web. An experience of sustainable innovation
Date
2010
Citation
Zapico-Barbeito, MH.; Gewerc Barujel, A. y Montero Mesa, Mª L. (2010). La construcción colectiva de un portal web de centro. Una experiencia de innovación sostenible. Profesorado. Revista de currículum y formación del profesorado, vol.14, nº 1, p. 339-353.
Abstract
[Resumen] Presentamos una experiencia que forma parte de un estudio más amplio que analiza los factores que dificultan o aceleran los procesos de cambio e innovación en los centros educativos cuando se incorporan TIC. En el contexto socio político y económico en que vivimos, la demanda de innovación es un imperativo que afecta a todos los ámbitos sociales. El sistema educativo no es una excepción, de manera que las escuelas están llamadas a subirse también en ese carro mostrando que son innovadoras. Por ello, el análisis de las innovaciones que tienen lugar en su seno es una oportunidad inmejorable para visualizar las condiciones en las que se desarrollan los procesos educativos. Se parte de la idea de que el potencial de cambio que la incorporación de las TIC podría generar, reside, sobre todo, en la manera en que están involucradas en el proyecto del centro y en el trabajo de reflexión sobre sus potencialidades educativas. Desde una perspectiva de investigación acción colaborativa, se construyeron cuatro estudios de casos: uno de un Centro de Educación Infantil y Primaria (C.E.I.P.), un Instituto de Educación Secundaria (I.E.S.), un Colegio Público Integrado (C.P.I.) y un Centro Rural Agrupado (C.R.A.). En este trabajo, abordaremos el análisis de una experiencia en un Centro Rural Agrupado (C.R.A.) de Galicia, en el que están integradas nueve escuelas, donde se imparte el segundo ciclo de Educación Infantil y primero de Primaria. Nuestra intención es la de dar cuenta de algunos de los significados de innovación sostenible en la experiencia de construcción del portal del centro como un espacio educativo.
[Abstract] We present an experience part of a global study which analyses the factors that hinder or accelerate the processes of change in innovation projects involving ICT in schools. Education policies often associate innovation with school integration of ICT, to such an extent that ICT themselves are attributed innovative potential, while overlooking the fact that it is the specific contexts in which ICT are placed that confer meaning. We start out with the idea that the potential for change that can be generated by ICT incorporation has to do with the way in which it is integrated into the school's educational project and in the time dedicated to reflecting on its educational possibilities. Our research was based on four cases taken from a Pre-school and Primary Education School (C.E.I.P.), a Secondary Education School (I.E.S.), an Integrated Public School (C.P.I.) and a Rural Cluster Centre (C.R.A.), in Galicia (Spain) by means of a collaborative action research methodology in the usual stages: action, observation, and reflection. In this paper show the analysis of an experience in a Rural Cluster Center (C.R.A) with nine schools (second cycle pre-school and first level of primary education). Our intention is to account some of the meanings of sustainable innovation in the process of building the portal web as an educational space.
Keywords
Innovación educativa
Integración de las TIC en las escuelas
Innovación sostenible
Editor version
ISSN
1138-414X