Dieta y ejercicio como factores de prevención de la obesidad: revisión de la literatura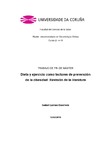 Collections
Title
Dieta y ejercicio como factores de prevención de la obesidad: revisión de la literatura
Author(s)
Directors
Millán-Calenti, José Carlos
Date
2015
Center/Dept./Entity
Universidade da Coruña. Facultade de Ciencias da Saúde
Description
Traballo fin de mestrado (UDC.FCS). Xerontoloxía. Curso 2014/2015.
Abstract
[Resumen] Introducción: Debido al envejecimiento, existe mayor prevalencia de condiciones asociadas, como la obesidad. Es el mayor riesgo en enfermedades cardiovasculares y de fragilidad en el anciano. Su prevención reduce la morbilidad, mejora la calidad de vida y ahorra gasto sanitario. Los programas de dieta y de ejercicio son los más efectivos en adultos. Hipótesis: La dieta, la actividad física o la combinación de ambos factores afectan significativamente a la prevención de la obesidad. Objetivos: Establecer el papel de las modificaciones dietéticas y de los programas de actividad física sobre la prevención de la obesidad en adultos. Material y Métodos: Se realizó una búsqueda bibliográfica en la bases de datos Medline y Web of Science de estudios publicados entre 1990 y 2014, utilizando palabras clave relacionadas con la prevención de la obesidad. Resultados y Discusión: Las dietas hipocalóricas, o de sustitución de productos grasos por carbohidratos complejos resultan en reducciones de peso y masa grasa que se mantienen en el tiempo y aportan unas ventajas para la salud que resalta su efectividad, al contrario que otras dietas. La actividad física, sin embargo, cumple los objetivos de reducción de masa grasa que se mantiene en el tiempo, pero no de peso. Las intervenciones mixtas combinan los beneficios de ambas intervenciones. Conclusiones: El papel de la dieta en la prevención de la obesidad es restringir la ingesta de energía, mientras que el de la actividad física es aumentar el gasto de energía para favorecer la disminución del IMC y de la masa grasa.
[Abstract] Introduction: Due to population aging there is a higher prevalence of associated conditions, such as obesity. It is the main risk of cardiovascular diseases and a frailty promoter in the elderly. Its prevention reduces associated morbidity, improves life quality and saves a great health spent. Diet interventions and physical activity programmes are the most effective ones among adults. Hypothesis: Diet, physical activity or a combination of both factors significantly affect to obesity prevention. Main objective: To establish the effects of dietary modifications and physical activity programmes on obesity prevention in adults. Methods: It was made a search on Medline and Web of Science databases of researches published from the year 1990 to 2014, by using key words related to obesity prevention. Results and Discussion: Hipocaloric diets, or a substitution of fat products to complex carbohydrates result in body weight and fat mass reductions which are maintained long-term. Those give some health advantages that highlight their effectiveness, which are not shown by other sorts of diet. Physical activity accomplishes the aims in fat mass reduction which are maintained long-term, but it does not fulfil the aims in body weight. Mixed interventions combine the benefits of both interventions. Conclusion: The role of diet in obesity prevention consists of restringing energy intake, whereas the role of physical activity consists of rising energy spent to favour BMI and fat mass decrease.
Keywords
Dieta
Actividad física
Prevención
Obesidad
Diet
Physical activity
Prevention
Obesity
Rights
Os titulares dos dereitos de propiedade intelectual autorizan a visualización do contido deste traballo a través de Internet, así como a súa reproducción, gravación en soporte informático ou impresión para o seu uso privado e/ou con fins de estudo e de investigación. En nengún caso se permite o uso lucrativo deste documento. Estos dereitos afectan tanto ó resumo do traballo como o seu contido Los titulares de los derechos de propiedad intelectual autorizan la visualización del contenido de este trabajo a través de Internet, así como su repoducción, grabación en soporte informático o impresión para su uso privado o con fines de investigación. En ningún caso se permite el uso lucrativo de este documento. Estos derechos afectan tanto al resumen del trabajo como a su contenido