Papel del terapeuta ocupacional en la prescripción y seguimiento de la contención mecánica en las personas mayores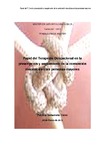 Collections
Title
Papel del terapeuta ocupacional en la prescripción y seguimiento de la contención mecánica en las personas mayores
Author(s)
Date
2013-01-24
Center/Dept./Entity
Universidade da Coruña. Facultade de Ciencias da Saúde
Description
Traballo fin de mestrado (UDC.FCS). Mestrado Universitario en Xerontoloxía. Curso 2012/2013.
Abstract
[Resumen] El número de personas mayores en la actualidad está en constante aumento, al igual que las enfermedades que afectan a este colectivo, haciendo que en numerosas ocasiones sean institucionalizados en centros de rehabilitación o tratamiento, en los cuales se utilizan diferentes sistemas de contención. Estos sistemas son dispositivos que limitan la movilidad del individuo para mantener su seguridad. Su uso debe estar justificado en función de la situación del paciente, utilizando los adecuados y debiéndose evaluar periódicamente la presentación de complicaciones, por si hubiera que retirarlos. Desde Terapia Ocupacional se realizará una valoración de los pacientes susceptibles de la utilización de estos productos, se elegirá el mecanismo adecuado y se evaluarán los posibles riesgos derivados de su utilización. En el papel del Terapeuta en relación con la contención también se incluiría la adaptación de nuevos dispositivos que no resulten agresivos para la propia persona.
[Abstract] The number of older people today is constantly increasing, as are the diseases that affect this group, making many times are institutionalized in rehabilitation or treatment centers, which are used in different containment systems. These systems are devices that limit the mobility of the individual to maintain their safety. Their use must be justified in terms of the patient's situation, using appropriate and having to periodically assess the presentation of complications, if I had to withdraw. From Occupational Therapy will be an evaluation of patients susceptible to the use of these products, choose the appropriate mechanism and assess the risks arising from their use. In the therapist's role in relation to the containment would also include the adaptation of new devices that are not aggressive to the individual.
Keywords
Personas mayores
Restricción física
Contención mecánica
Terapia ocupacional
Elderly
Physical restraint
Mechanical restraint
Occupational therapy
Rights
Os titulares dos dereitos de propiedade intelectual autorizan a visualización do contido deste traballo a través de Internet, así como a súa reproducción, gravación en soporte informático ou impresión para o seu uso privado e/ou con fins de estudo e de investigación. En nengún caso se permite o uso lucrativo deste documento. Estos dereitos afectan tanto ó resumo do traballo como o seu contido Los titulares de los derechos de propiedad intelectual autorizan la visualización del contenido de este trabajo a través de Internet, así como su repoducción, grabación en soporte informático o impresión para su uso privado o con fines de investigación. En ningún caso se permite el uso lucrativo de este documento. Estos derechos afectan tanto al resumen del trabajo como a su contenido