Factores de riesgo y patologías neurodegenerativas: enfermedad de Alzheimer y degeneración macular asociada a la edad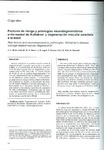 View/Open
Title
Factores de riesgo y patologías neurodegenerativas: enfermedad de Alzheimer y degeneración macular asociada a la edad
Alternative Title(s)
Risk factors and neurodegenerative pathologies: Alzheimer's disease and age-related macular degeneration
Author(s)
Date
2005
Citation
Millán-Calenti JC, Roca HM, Lago JR, Gómez-Ulla F, Vila M, Maseda A. Factores de riesgo y patologías neurodegenerativas: enfermedad de Alzheimer y degeneración macular asociada a la edad. Geriatrika. 2005;21(6):244-248.
Abstract
[Resumen] Hemos estudiado la posible relación entre la degeneración macular asociada a la edad (DMAE) y la enfermedad de Alzheimer (EA) con el fin de abrir nuevas vías de diagnóstico y pronóstico para la EA. Para ello, se realiza estudio de fondo de ojo en sujetos diagnosticados o no con EA, determinando así la presencia o ausencia de DMAE en ambos grupos. A continuación, se determinó la relación entre ambas enfermedades mediante el registro protocolizado de factores de riesgo comunes a ambas patologías y referenciados en la literatura, siendo la hipertensión arterial y los niveles elevados de colesterol los más contrastados. Concluimos que en base a los datos aportados podría considerarse establecer un diagnóstico precoz de la enfermedad de Alzheimer a partir de la DMAE.
[Abstract] The aim of this study was to find new ways to diagnose Alzheimer's disease (AD). Thus, we surveyed the putative relationship between age-related macular degeneration (AMD) and AD. For this, we first scored the presence/absence of AMD in two groups of individuals (non diagnosed and suffering from AD). AMD was determined by studying the retina. Then, we scored the values shown by risk factors common to both disorders. We postulate that two variables (arterial hypertension and high level of cholesterol) might be the basis for an early diagnosis of AD from AMD.
Keywords
Degeneración macular
Enfermedad de Alzheimer
Hipertensión arterial
Hipercolesterolemia
Drusas
Neurodegeneración
Age-related macular degeneration
Alzheimer's disease
Arterial hypertension
Hypercholesterolemia