Eutanasia: conceptos y opiniones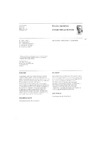 View/Open
Title
Eutanasia: conceptos y opiniones
Author(s)
Date
1995-11
Citation
Millán Calenti JC, Mayán Santos JM, Fernández Sánchez MC, Domínguez Naveiras L, Fuertes de Castro M. Eutanasia: conceptos y opiniones. Gerokomos. 1995;6(15):125-130.
Abstract
[Resumen] La eutanasia, desde que fuera definida por Bacon como la "buena muerte", es un concepto que está generando numerosas controversias entre la población general, dado su carácter social, debido a la influencia de las diferentes corrientes ideológicas. Mediante el presente trabajo, junto con una breve revisión del tema, tratamos de conocer la opinión que sobre la eutanasia tiene una población cualquiera, a la que hemos realizado encuesta estandarizada. La gran mayoría de los entrevistados conoce el significado de la palabra "eutanasia", manifestando estar a favor de su aplicación en la forma activa un porcentaje menor que en la forma pasiva.
[Abstract] Since euthanasia was defined by Bacon as the "good death", it has generated much controversy among the general population because of its societal aspects and the influence of different ideological views. We briefly reviewed the topic and surveyed a population regarding their opinion of euthanasia. A standarized survey showed the most of the interveewees knew the meaning of the word "euthanasia". A smaller percentage were in favor of active as opposed to passive euthanasia.
Keywords
Eutanasia
Encuesta
Buena muerte
Euthanasia
Survey
Good death