Evaluación con el cuestionario OARS modificado de los beneficios obtenidos mediante la interacción con animales de compañía en un colectivo de ancianos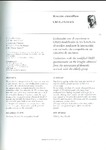 Title
Evaluación con el cuestionario OARS modificado de los beneficios obtenidos mediante la interacción con animales de compañía en un colectivo de ancianos
Alternative Title(s)
Evaluation with the modified OARS questionnaire on the benefits obtained from the interaction of domestic animals with the elderly group
Author(s)
Date
1999-04
Citation
Gandoy Crego M, Millán Calenti JC, Cambeiro Vázquez J, Villar Rodríguez MC, Mayán Santos JM. Evaluación con el cuestionario OARS modificado de los beneficios obtenidos mediante la interacción con animales de compañía en un colectivo de ancianos. Gerokomos.1999;10(2):53-58.
Abstract
[Resumen] El envejecimiento poblacional hace que cada vez surjan nuevas alternativas coducentes a mejorar la calidad de vida de las personas mayores. En nuestro trabajo, exponemos los resultados obtenidos sobre una muestra de 19 ancianos que han sido evaluados tras convivir con un animal de compañía durante 4 meses, y entre los que destacan los obtenidos sobre el área de la salud mental, mejorando la autoestima y la sensación de compañía percibida entre otros factores. La terapia con animales de compañía es una gran alternativa, que a bajo coste, puede generar grandes efectos en los mayores.
[Abstract] Population ageing makes that new alternatives to improve elderly people's quality of life arise increasingly. In our study, we show the results obtained from a sample of 19 elderly people who have been evaluated after having coexisted with a pet for 4 months. Among these results, we can emphasize the ones realted to the area of mental health, observing that this fact improves self-esteem and the sensation of company, among others. Therapy with pets is an alternative that, with a low cost, can generate great effects on elderly people.
Keywords
Anciano
Animal de compañía
Salud
Elderly
Pet
Health