Enfermedad tromboembólica venosa en personas mayores: revisión de la literatura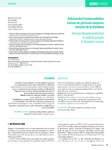 Title
Enfermedad tromboembólica venosa en personas mayores: revisión de la literatura
Author(s)
Date
2014-09
Citation
García Prieto M, Maseda A, Sánchez A, Lorenzo-López L, Núñez-Naveira L, Millán-Calenti JC. Enfermedad tromboembólica venosa en personas mayores: revisión de la literatura. Gerokomos. 2014;25(3):93-97.
Abstract
[Resumen] La trombosis venosa profunda y el tromboembolismo pulmonar son dos presentaciones de la misma enfermedad, la enfermedad tromboembólica venosa. Su alta incidencia entre la población anciana junto con numerosos factores de riesgo asociados y la dificultad del diagnóstico hacen de esta un importante problema de salud con afectación directa sobre el profesional enfermero. Método: revisión de la literatura científica, incluyendo artículos publicados entre 1993 y 2013. Conclusiones: la incidencia de las enfermedades tromboembólicas se ve incrementada con la edad. Esta es aún mayor en personas que presentan factores de riesgo tales como, inmovilidad, cáncer y cirugía. Un diagnóstico y tratamiento precoz ayuda a disminuir las complicaciones y casos de mortalidad.
[Abstract] Deep venous thrombosis and pulmonary embolism together are known as venous thromboembolism. Its high incidence among the elderly together with many associated risk factors and the difficulty in its diagnosis makes it an important health problem which directly affects the nurse professional. Methods: Revision of scientific literature including articles published between 1993 and 2013. Conclusions: The incidence of venous thromboembolism increases with age and it is even higher in people presenting risk factors like immobility, cancer and surgery. An early diagnosis and treatment help to minimize complications and mortality rate.
Keywords
Trombosis
Tromboembolismo pulmonar
Enfermedad troemboembólica
Personas mayores
Thrombosis
Pulmonary embolism
Venous thromboembolism
Elderly
Editor version