Gripe A: estudio de un caso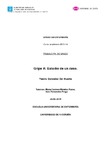 Collections
Title
Gripe A: estudio de un caso
Author(s)
Directors
Méndez Pazos, M. Carmen
Fernández Fraga, Inés

Date
2014
Center/Dept./Entity
Universidade da Coruña. Escola Universitaria de Enfermaría de A Coruña
Description
Traballo fin de grao (UDC.ENFC). Enfermaría. Curso 2013/2014
Abstract
La gripe es una enfermedad infecciosa causada por los virus A y B que se presenta en forma de casos esporádicos, epidemias estacionales y de pandemias durante las épocas más frías del año. El virus A (H1N1)pdm09 se asocia normalmente a un mayor número de infecciones graves que requieren hospitalización e ingresos en UCI. En su desarrollo se utiliza la guía de valoración de Virginia Henderson y las taxonomías NANDA, NOC y NIC en la identificación de problemas y planificación. El objetivo de este trabajo es presentar y describir el caso clínico de una paciente con gripe A (H1N1) y el plan de cuidados en una unidad de cuidados intensivos. Los cuidados prestados a la paciente fueron eficaces inicialmente, pero dada su situación clínica no se ha podido evidenciar la efectividad del plan de cuidados. Consideramos de interés valorar la efectividad de la planificación en otros pacientes en similar situación clínica.
A gripe é unha enfermidade infecciosa causada por virus A e B, que se presenta en forma de casos esporádicos, epidemias estacionais e pandemias durante as estacións máis frías. O virus A (H1N1) pdm09 normalmente asociase a un maior número de infeccións graves que requiren internamento hospitalario e ingresos na UCI. O obxetivo deste traballo e presentar e describir o caso clínico dunha paciente con gripe A (H1N1) e o plan de coidados nunha unidad de coidados intensivos. A asistencia prestada ao paciente foron inicialmente eficaz, pero dada a súa situación clínica non se pudo demostrar a eficacia do plan de asistencia. Considero de interese para avaliar a eficacia da planificación noutros pacientes en situación clínica semellante.
Influenza is an infectious disease caused by A and (or) B virus, it can appear as sporadic cases, seasonal epidemic, and pandemic during colder period of the year. The A (H1N1) pdm09 is normally associated with a larger number of serious infections that requires hospitalization and to hospitalize in ICU. In the development of this study, we use Virginia Henderson's valuation guide and the NANDA, NOC and NIC taxonomies to identify problems and planning. The objective of this study is to present and describe the medical case of a patient who has an A (H1N1) influenza and the plan of care in the intensive care unit (ICU). The care given to the patient was initially effective, but due to her medical situation, we cannot value the efficacy of the care's plan. We consider pertinent the necessity to value the efficacy of the planning in other patients who have a similiar medical situation.
Keywords
Gripe A
Ventilación mecánica invasiva
Plan de cuidados intensivos
Neumonía comunitaria
Protocolo
Vacuna gripe A
Epidemiología
NANDA, NOC, NIC
Influenza
Plan de coidados intensivos
Pneumonía comunitaria
Vacina contra a gripe A
Epidemioloxía
Influenza A
Invasive mechanical ventilation
Intensive care procedure
Community-acquired pneumonia
Protocol
Influenza A vaccine
Epidemiology
Rights
Os titulares dos dereitos de propiedade intelectual autorizan a visualización do contido deste traballo a través de Internet, así como a súa reproducción, gravación en soporte informático ou impresión para o seu uso privado e/ou con fins de estudo e de investigación. En nengún caso se permite o uso lucrativo deste documento. Estos dereitos afectan tanto ó resumo do traballo como o seu contido Los titulares de los derechos de propiedad intelectual autorizan la visualización del contenido de este trabajo a través de Internet, así como su repoducción, grabación en soporte informático o impresión para su uso privado o con fines de investigación. En ningún caso se permite el uso lucrativo de este documento. Estos derechos afectan tanto al resumen del trabajo como a su contenido