Ruralidades e turismo gastronômico no município de Silveira Martins, RS, Brasil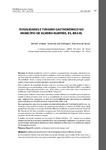 View/Open
Collections
Title
Ruralidades e turismo gastronômico no município de Silveira Martins, RS, Brasil
Date
2012
Citation
ROTUR: Revista de ocio y turismo, 2012, 5: 67-79. ISSN: 1888-6884
Abstract
[Resumo] No debate académico o rural e o urbano ocuparam hoje um espaço relevante.A par, descortina-se uma inversão de valores relativos a estes dois espaços, mormente com a busca de uma vida mais saudável e com o contacto com a natureza, a que se associa a valorização da ruralidade.. Assim, o espaço rural, antes visto como o espaço apenas da produção agropecuária, é hoje usado comoárea de lazer e local de residência. Aliás, é através da actividade de lazer e de ócio em áreas rurais que hoje podemos aferir a crescente procura pela tradição e pelo endógeno. Como refere Wandeley (2001), a sociedade brasileira reforça presentemente o seu olhar sobre o rural, antes visto como uma fonte de problemas, hoje indiciando um potencial de "soluções". A busca pelos hábitos e elementos da vida no campo refletea concomitante procura pela atividade turística em áreas rurais. Entre as modalidades do turismo em área rural sublinhamos aqui oagroturismo, porquanto se trata de uma modalidade que mais enfoca as ruralidades locais e propicia ao visitante vivenciar e experenciar a vida rural. Nessa perspectiva, procurou-se analisar a matriz enformadora do "rural tradicional"e a sua valorização como produto turístico em pequenos municípios no interior do Brasil. Ocase study propostoincide sobre o município de Silveira Martins, localizado na parte central do Estado do Rio Grande do Sul. Este município comporta uma Rota Gastronômicaque apresente elementos que reportam aos visitantes as tradições e a ancestralidade da imigração italiana que ao longo do século XIX se fixou na região. A análise do estudo realizado no município de Silveira Martins – RS – baseou-se em dados obtidos através de entrevistas e questionários não estruturados aplicados no local, bem como na observação participante durante as visitas realizadas no Município e na análise de material de divulgação turística.
[Abstract] In the academic debate rural and urban occupied a relevant space today. At the same time, a reversal of values for these two spaces is revealed, especially with the search for a healthier life and contact with nature, which is associated with the appreciation of rurality. Thus, rural areas, once seen as the area of agricultural production alone, are now used as a recreation area and place of residence. Indeed, it is through leisure activity and leisure in rural areas that today we can gauge the growing demand for tradition and for the endogenous. As Wandeley (2001) refers, Brazilian society reinforces its present eye on the countryside, once seen as a source of problems, but today indicating a potential "solutions". The search for the habits and elements of country life reflects the concomitant demand for tourism in rural areas. Among the modalities of tourism in rural areas, we emphasize here agritourism, because it is a discipline that focuses the most on local ruralities and enables the visitor to live and experience the rural life. In that perspective, it was sought to analyze the formatting matrix the "traditional rural" and its appreciation as a tourist product in small towns in rural Brazil. The proposed case study focuses on the municipality Silveira Martins, located in the central part of the state of Rio Grande do Sul. This municipality includes a Gastronomic Route which features elements that report to visitors the traditions and ancestry of Italian immigration that settled in the region throughout the nineteenth century. The analysis of the study conducted in the city of Silveira Martins - RS - was based on data obtained through interviews and unstructured questionnaires applied on site, as well as participant observation during the visits that took place in the city and in the analysis of tourist publicity material.
[Resumen] En el debate académico lo rural y lo urbano ocupan hoy un espacio relevante. Al mismo tiempo, se hace patente una inversión de los valores relativos a estos dos espacios, sobre todo con la búsqueda de una vida más sana y el contacto con la naturaleza, a la que se asocia la revalorización de lo rural. Así, el espacio rural, antes visto solamente como un ámbito de producción agropecuaria, es hoy utilizado como zona de recreo y lugar de residencia. De hecho, es a través de actividades de ocio y esparcimiento en las áreas rurales como hoy podemos calibrar la creciente demanda de la tradición y lo endógeno. Como indica Wandeley (2001), ahora la sociedad brasileña refuerza su mirada sobre lo rural, antes visto como una fuente de problemas, y hoy como un potencial de "soluciones". La búsqueda de los hábitos y elementos de la vida en el campo se refleja en la concomitante demanda de actividad turística en áreas rurales. Dentro de los tipos de turismo en esas áreas, destacamos aquí el agroturismo, porque se trata de la modalidad que más enfoca las ruralidades locales y propicia que el visitante viva y experimente la vida rural. Desde esa perspectiva, se ha buscado analizar la matriz conformadora del "rural tradicional" y su revalorización como producto turístico en los pequeños municipios del interior de Brasil. El estudio de caso propuesto se centra en el municipio de Silveira Martins, localizado en la parte central del estado de Rio Grande do Sul (RS). Este municipio cuenta con una ruta gastronómica que presenta elementos que dan a conocer a los visitantes las tradiciones y los atavismos de la inmigración italiana que se estableció en la región a lo largo del siglo XIX. El análisis del estudio llevado a cabo en el municipio de Silveira Martins -RS- está basado en datos obtenidos a través de entrevistas y cuestionarios no estructurados aplicados en el lugar, así como en la observación participante durante las visitas al municipio y el análisis de material turístico publicitario.
Keywords
Ruralidades
Endógeno
Turismo em espaço rural
Ruralities
Endogenous
Rural tourism
ISSN
1888-6884