O enoturismo como promotor da sustentabilidade da atividade turística regional: o projecto da 'Casa do vinho de Valpaços'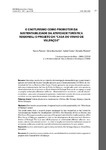 Ver/abrir
Coleccións
Título
O enoturismo como promotor da sustentabilidade da atividade turística regional: o projecto da 'Casa do vinho de Valpaços'
Título(s) alternativo(s)
Wine tourism as a promoter of regional tourist activity sustainability: the "Wine Houseof Valpaços" project
Autor(es)
Data
2012
Cita bibliográfica
ROTUR: Revista de ocio y turismo, 2012, 5: 21-39. ISSN: 1888-6884
Resumo
[Resumo] Este artigo resulta de um trabalho de investigação desenvolvido por quatro investigadores do Centro de Estudos Transdisciplinares para o Desenvolvimento (CETRAD), da Universidade de Trás-os-Montes e Alto Douro. O texto apresenta um resumo do projeto apresentado para implementação da Casa do Vinho de Valpaços, considerada como uma aposta no desenvolvimento do enoturismo no Norte Interior de Portugal. Trata-se de um espaço no qual se propõe contemplar diferentes valências - desenvolvimento económico, cultural, educativo, turístico - para assim ultrapassar largamente o tradicional conceito de museu, procurando constituir-se uma experiência variada e interativa para os seus visitantes.
[Abstract] This article stems from a research project developed by four researchers at the Center for Transdisciplinary Studies for Development (CETRAD), the University of Tras-os-Montes and Alto Douro. The paper presents a summary of the project submitted for implementation of the Wine House of Valpaços, regarded as a bet on the development of wine tourism in Northern Interior of Portugal. This is an area which proposes to contemplate different valences - economic, cultural, educational, tourism – in order to largely overcome the traditional concept of a museum, seeking to constitute a varied and interactive experience for your visitors
[Resumen] Este artículo es resultado de un trabajo de investigación desarrollado por cuatro investigadores del Centro de Estudios Transdisciplinarios para el Desarrollo (CETRAD), de la Universidad de Trás-os-Montes y Alto Duero. El texto presenta un resumen del proyecto presentado para la implementación de la Casa del Vino de Valpaços, considerada como una apuesta por el desarrollo del enoturismo en la zona interior norte de Portugal. Esta es un área que se propone contemplar diferentes valencias -desarrollo económico, cultural, educativo, turístico- para así superar ampliamente el concepto tradicional de museo, a la búsqueda de constituir una experiencia variada e interactiva para sus visitantes.
Palabras chave
Turismo
Enoturismo
Gastronomia e vinhos
Alto Tâmega
Valpaços
Casa do Vinho
Educaçâo
Tourism
Wine tourism
Gastronomy and wines
Alto Tamega
House wine
Education
ISSN
1888-6884