Rotas de vinho e desenvolvimento regional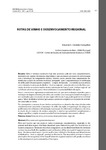 View/Open
Collections
Title
Rotas de vinho e desenvolvimento regional
Alternative Title(s)
Wine routes and regional development
Author(s)
Date
2012
Citation
ROTUR: Revista de ocio y turismo, 2012, 5: 11-19. ISSN: 1888-6884
Abstract
[Resumo] Vinho e turismo constituem hoje dois produtos cada vez mais complementares,mormente em regiões vitivinícolas deprimidas e que encetaram processos de restruturaçãocom a introdução da componente turística. Estamos, assim, perante duas componentes determinadasa partir do contexto territorial, porquanto quer a regulamentação e certificaçãodo vinho parte de pressupostos regionais – a região demarcada – e o turismo que se articulacom o desenho e a atracção do destino – local ou regional – exercida sobre o turista. Esta associaçãodo vinho ao turismo implica ainda a valorização da "marca" onde o ênfase regional vaicontribuir, sobremaneira, para o desenvolvimento e a sustentabilidade da região.Assim, o enoturismo representa actualmente mais do que uma motivação específica para arealização da viagem induzida pelo vinho, ele constitui uma nova oportunidade de negócio eum catalisador para a economia de uma região vitivinícola. A par, pode igualmente contribuirpara o "afinar do destino turístico", pois passa a promover a região e um conjunto de actividadesassociadas ao vinho.Por conseguinte, o sucesso de um destino enoturístico e o desenho das rotas vitícolas estãosimultaneamente associados à reputação do vinho da região, à organização da adega e aoacolhimento dos visitantes, à dinamização e promoção dos elementos endógenos e do único,á criação de um conjunto de serviços, atracções e eventos que permitem complementar aadega e qualificar a região enquanto produto"turismo integrado numa matriz cultural.
[Abstract] Wine and tourism are two products today increasingly complementary, especially in depressedand wine regions that have depressed upon restructuring with the introduction oftourism component. Moreover, these two components can be determined from the territorialcontext, because both the regulations and certification of the wine part of regional assumptions- the demarcated region - tourism and, in turn, is linked to the design and attractivenessof destination - local or regional - exerted on the tourist. This association of wine to tourismalso implies the recognition of the "brand" where the regional emphasis will greatly contributeto the development and sustainability of the region.Thus, wine tourism currently represents more than a specific motivation for holding the winedriven trip, it is a new business opportunity and a catalyst for the economy of a wine region.At the same time, it can also contribute to "fine tune the tourist destination", as it starts to promotethe region and a range of activities associated with wine.Therefore, the success of a wine tourism destination and the design of wine routes are both associatedwith the reputation of the region's wine, the organization of the cellar and the receptionof visitors, the stimulation and promotion of endogenous elements and of the "unique",will create a set of services, attractions and events that allow to complement the winery and toqualify the region as an integrated tourist product.
[Resumen] Vino y turismo constituyen hoy dos productos cada vez más complementarios, especialmenteen las regiones vitivinícolas deprimidas y que han emprendido procesos de reestructuracióncon la introducción del componente turístico. Además, estos dos componentespueden ser determinados a partir del contexto territorial, por cuanto la regulación y la certificacióndel vino parte de presupuestos regionales –la región demarcada- y el turismo, asu vez, se articula con el diseño y el atractivo del destino –local o regional- ejercido sobreel turista. Esta asociación de vino y turismo implica el reconocimiento de la "marca", dondeel énfasis regional contribuirá, en gran medida, al desarrollo y la sostenibilidad de la región.Así, el enoturismo representa actualmente más que una motivación específica para la realizacióndel viaje inducido por el vino, al constituir una nueva oportunidad de negocio y uncatalizador para la economía de una región vitivinícola. Además, puede contribuir igualmentea "afinar el destino turístico", pues pasa a promover la región y un conjunto de actividadesasociadas al vino.Por consiguiente, el éxito de un destino enoturístico y el diseño de rutas vitícolas están simultáneamenteasociados a la reputación del vino de la región, a la organización de la bodega y ala recepción de los visitantes, la dinamización y promoción de los elementos endógenos y delo "único", la creación de un conjunto de servicios, atracciones y eventos que permitan complementarla bodega y calificar la región en cuanto producto turístico integrado.
Keywords
Rotas de vinho
Enoturismo
Desenvolvimento regional
Wine routes
Wine tourism
Regional development
ISSN
1888-6884