Safety and security" em instituiçôes hoteleiras em Ter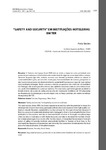 View/Open
Collections
Title
Safety and security" em instituiçôes hoteleiras em Ter
Alternative Title(s)
"Safety and security" in hospitality tourism in rural area
Author(s)
Date
2012
Citation
ROTUR: Revista de ocio y turismo, 2012, 5: 125-131. ISSN: 1888-6884
Abstract
[Resumo] O Turismo em Espaço Rural (TER) tem-se vindo a impor-se como actividade com potencial para relançar o desenvolvimento sustentável de algumas zonas deprimidas, nomeadamente daquelas que têm, todavia, recursos com elevada qualidade cultural ou natural. A sustentabilidade é, pois, um conceito chave para esta modalidade de turismo, porquanto se não houver um processo de desenvolvimento sustentável hipoteca-se o que de mais valioso estes territórios albergam. Neste contexto, e devido ao aumento dos níveis de criminalidade em Portugal, não só nos grandes centros, mas também em zonas rurais ou com menos recursos, pode desestabilizar-se a procura turística. Por essa razão, apresenta grande acuidade o fortalecimento de acções de safety and security em instalações hoteleiras de TER plasmadas na dinamização da prevenção e na articulação com as forças policiais, em ordem ao reforço da segurança do TER.
[Abstract] The rural tourism Areas (RTA) has been imposed as an activity with the potential to boost the development of some rural areas, particularly those who have resources with high quality cultural or natural. However, sustainability is a key concept for this type of tourism, because if there is a process of sustainable development mortgage is what is most valuable harbor these territories. In this context, and due to increased levels of crime in Portugal, not only in large cities, but also in rural areas or with fewer resources, can help to decrease the number of tourists to take advantage of our tourist offer. For this reason, it is essential the increase of strenght action of safety 'nd security methods among hotel facilities in Tourism at Rural Area, ie, the one hand, the dynamics of prevention, and secondly, the connection fortelecimento the local police for help eradication of this phenomenon.
[Resumen] El turismo en espacio rural (TER) se ha ido imponiendo como una actividad con potencial para impulsar el desarrollo sostenible de algunas zonas deprimidas, en particular las que tienen todavía recursos con una alta calidad cultural o natural. La sostenibilidad es, por lo tanto, un concepto clave para esta modalidad de turismo, ya que si no hubiera un proceso de desarrollo sostenible se hipotecaría lo más valioso que albergan estos territorios. En este contexto, la demanda turística puede llegar a desestabilizarse no sólo en las grandes ciudades, sino también en las zonas rurales o con menos recursos, debido al aumento de los niveles de criminalidad en Portugal. Por esta razón, es esencial fortalecer las medidas de seguridad personal y protección (safety and security) en las instalaciones hoteleras del TER, plasmadas en la dinamización de la prevención y en la coordinación con las fuerzas policiales, con el fin de fortalecer la seguridad de este tipo de turismo.
Keywords
Turismo
Segurança
Meio rural
Tourism
Security
Rural areas
ISSN
1888-6884