The new officil tourism website of the city of Porto: promoting tourism and a wine destination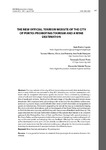 View/Open
Collections
Title
The new officil tourism website of the city of Porto: promoting tourism and a wine destination
Alternative Title(s)
O novo portal de Turismo da cidade do Porto: promoção de um destino Turismo e Vitivinícola.
Author(s)
Date
2012
Citation
ROTUR: Revista de ocio y turismo, 2012, 5: 97-123. ISSN: 1888-6884
Abstract
[Abstract] The new website of the city of Porto (www.visitporto.travel), that started development in early 2010 and was activated in May 2011, functions as a tourism marketplace combined with an integrated information system for tourism. This is achieved by combining a series of tools and technologies that provide information and advice and support the acquisition of goods and services. Starting from the early stage of trip planning and remote access (telephone, SMS, email and web), proceeding to the arrival into the city and face to face interactions in e.g. tourist shops, combined with other means of self-information and acquisition of goods and services (e.g. PortoCard), supporting the visit all the way up to eventually leaving the city to visit other destinations, such as the vineyards of the Douro Valley, and coming back to Porto for the return journey, and finishing with the process of feedback and follow-up. This paper describes the rationale behind the creation of this website that intends to be a tourism gateway to the Metropolitan Area of Porto and Northern Portugal with special emphasis on the Douro Valley, and the experience behind the process of designing, implementing and rolling out the new portal, and adapting it to user feedback. Although the website is still under active development some parts of it are already considered to be a success. The most important result seems to be that the website is working as a rally point for the tourism ecosystem, fostering the development of synergies between the different players.
[Resumo] O novo portal de turismo da cidade do Porto (www.visitporto.travel), cujo desenvolvimento arrancou no início de 2010 sendo disponibilizado ao público em maio 2011, funciona como um mercado de turismo combinado com um sistema de informação integrado. Isto é conseguido através da combinação de uma série de ferramentas e tecnologias que fornecem informação e aconselhamento e apoiam a aquisição de bens e serviços turísticos. O suporte vai desde a fase inicial de planeamento da viagem e acesso remoto (telefone, SMS, e-mail e web), prosseguindo com a chegada à cidade e interações face a face, por exemplo em lojas do turismo, combinado com outros meios de auto informação e aquisição de bens e serviços (por exemplo, PortoCard), apoiando a visita ao longo de todo o percurso até eventualmente deixar a cidade para visitar outros destinos, tal como as vinhas do Vale do Douro, voltando ao Porto para a viagem de regresso, e terminando com o processo de feedback e acompanhamento posterior. Este artigo descreve a lógica da criação deste sítio web que pretende ser uma porta de entrada do turismo para a Área Metropolitana do Porto e Norte de Portugal, com especial destaque para o vinho e o Vale do Douro; e descreve a experiência por trás do processo de conceção, implementação e operacionalização deste novo portal, e adaptação do mesmo em função do feedback dos utilizadores. Embora ainda esteja em ativo desenvolvimento, algumas componentes deste portal já são consideradas um sucesso. O resultado mais importante parece ser estar funcionando como um ponto de encontro para o ecossistema
[Resumen] El nuevo sitio web de la ciudad de Oporto (www.visitporto.travel), que comenzó a desarrollarse a principios de 2010 y se activó en mayo de 2011, funciona como un mercado turístico combinado con un sistema de información integrado para el turismo. Esto se logra mediante la articulación de una serie de herramientas y tecnologías que proporcionan información, asesoramiento y apoyo en la adquisición de bienes y servicios. Así, desde la fase inicial de planificación del viaje y del acceso remoto a la información (teléfono, SMS, correo electrónico y web), la llegada a la ciudad ofrece una interacción cara a cara, por ejemplo, en tiendas para turistas, junto con otros medios de auto-información y compra de bienes y servicios (por ejemplo, PortoCard) que apoyan la visita y la programación de la salida de la ciudad para conocer otros destinos, como los viñedos del Valle del Duero, y de vuelta a Oporto para el viaje de regreso concluir así el proceso de retroalimentación y seguimiento. Este artículo describe la lógica inherente a la creación del sitio web referido que pretende ser una puerta de entrada para el turismo en el Área Metropolitana de Oporto y Norte de Portugal, con especial énfasis en el Valle del Duero, y la experiencia integral de la concepción, implementación e implantación del nuevo portal, para adaptarlo a la retroalimentación del usuario. Aunque el sitio está todavía en desarrollo, algunos de sus componentes ya se consideran un éxito. El resultado más importante parece radicar en el hecho de que el sitio web está funcionando como un punto de encuentro para el ecosistema del turismo, impulsando el desarrollo de sinergias entre los diferentes agentes.
Keywords
Wine
Tourism
Destination
TIC and tourism
Vinho
Turismo
Destino
TIC e turismo
ISSN
1888-6884