Una arquitectura ausente ilumina la celebración del misterio. La iglesia del monasterio benedictino de Las Condes. Entrevista al arquitecto Martín Correa, OSB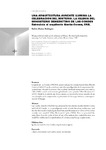 View/Open
Collections
Title
Una arquitectura ausente ilumina la celebración del misterio. La iglesia del monasterio benedictino de Las Condes. Entrevista al arquitecto Martín Correa, OSB
Alternative Title(s)
Missing architecture lights up the celebration of Mistery. Th e church of the benedictinemonastery, Las Condes. Interview with architect Martin Correa, OSB.
Author(s)
Date
2012
Citation
Boletín Académico. Revista de investigación y arquitectura contemporánea, 2012, 2: 56-63. ISSN: 2173-6723
Abstract
[Resumen] La iglesia de Las Condes (1962/64), proyectada por los monjes benedictinos Martín Correa y Gabriel Guarda, constituye una obra paradigmática de la arquitectura latinoamericana. Ha sido la primera obra moderna declarada monumento nacional en Chile (1981), siendo recientemente galardonada con el premio "Obra Bicentenario"(2009). Desde la mirada de uno de sus autores, se exponen los temas centrales de un caso ejemplar en la comprensión arquitectónica de los requerimientos contemporáneos de la liturgia.
[Abstract] Las Condes church (1962/64) was projected by benedictine monks Martín Correaand Gabriel Guarda. It is a paradigmatic work in Latin American architecture, andalso the first modern building declared National Monument in Chile (1981). It has recently been awarded "Obra Bicentenario" prize (2009). Here are presented the main ideas, from the point of view of one of its authors, that leaded this work as a model for architectural comprehension of contemporary liturgy requirements.
Keywords
Iglesia
Monasterio
Las Condes
Arquitectura religiosa
Church
Monastery
Sacred architecture
ISSN
2173-6723