Determinación de As, Cd, Pb y Ni en materia particulada atmosférica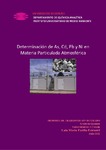 Title
Determinación de As, Cd, Pb y Ni en materia particulada atmosférica
Author(s)
Directors
López-Mahía, P.
Date
2012
Center/Dept./Entity
Universidade da Coruña. Facultade de Ciencias
Description
Traballo fin de grao (UDC.CIE). Química. Curso 2011/2012
Abstract
[Resumen]La presente memoria de Trabajo Fin de Grado se ha estructurado en ocho capítulos.El primero son los objetivos del estudio que de forma resumida son la comparación dedos métodos de digestión (calentamiento por conducción y por energía de microondas) para la extracción de As, Cd, Pb y Ni en muestras de particulado atmosférico con posterior medida por plasma acoplado inductivamente a espectrometría de masas (ICPMS). En el segundo se realiza una breve introducción sobre la contaminación atmosférica centrándose en el particulado atmosférico: características, orígenes, efectos y marco normativo; con el objetivo de destacar la importancia de los efectos sobre la salud humana y su inherente complejidad en cuanto a composición. En el tercer capítulo se describen los sistemas de muestreo de particulado atmosférico así como las características de los filtros empleados en la toma de muestra. En el cuarto, se desarrolla el tratamiento de muestras de particulado atmosférico, haciendo hincapié en la naturaleza de los ácidos a emplear y las fuentes auxiliares de energía para la mejora de extracción. Por útlimo se describen las técnicas analíticas de determinación de metales en este tipo de muestras y los materiales de referencia disponibles. En el capítulo V se describe la parte experimental, desde la toma de muestra hasta la determinación analítica especificando los dos métodos de digestión empleados, así como la instrumentación, materiales y reactivos. En el capítulo VI se presentan los resultados obtenidos para cada método evaluando las características analíticas de los mismos y realizando un estudio comparativo. Posteriormente se realiza la aplicación a muestras con la posterior evaluación de los resultados obtenidos, así como una interpretación medioambiental de los mismos. Las conclusiones de este Trabajo se exponen en el capítulo VII. Finalmente, en el capítulo VIII se señalan las referencias bibliográficas citadas en la presente memoria.
[Abstract]This End of Degree Project is organized into eight chapters. First chapter covers the objectives of the study, briefly the comparison of two digestion methods (conduction and microwave energy heating) for the extraction of As, Cd, Pb and Ni in tmospheric particulate matter and analysis by inductively coupled plasma mass spectrometry (ICP-MS). A brief introduction of atmospheric pollution focused on the atmospheric particulate is made in the second chapter. This introduction covers the characteristics, origins, effects and regulatory framework. The objective has been highlighting the importance of the effects on the human health and the inherent complexity of the composition. Systems for sampling atmospheric particulate matter and characteristics of employed filters are described in the third chapter. The fourth chapter covers the treatment of atmospheric particulate samples with special emphasis on the nature of acids and auxiliary sources of energy employed to improve the extraction. Finally, analytical techniques for the analysis of metals in these samples and available reference materials are described. Fifth chapter describes experimental procedures, from sampling to analytical determination. Digestion methods, instruments, materials and chemicals are listed. Results obtained for each method are shown in the chapter VI. The characteristics of each method are evaluated and a comparative studied was performed. Methodology was applied to samples and results were evaluated and interpreted form an environmental point of view. Conclusions are shown in chapter VII.Finally, chapter VIII includes the bibliographic references cited on this work.
Keywords
Depuración
Contaminantes atmosféricos
Polución
Rights
Os titulares dos dereitos de propiedade intelectual autorizan a visualización do contido deste traballo a través de Internet, así como a súa reproducción, gravación en soporte informático ou impresión para o seu uso privado e/ou con fins de estudo e de investigación. En nengún caso se permite o uso lucrativo deste documento. Estos dereitos afectan tanto ó resumo do traballo como o seu contido Los titulares de los derechos de propiedad intelectual autorizan la visualización del contenido de este trabajo a través de Internet, así como su repoducción, grabación en soporte informático o impresión para su uso privado o con fines de investigación. En ningún caso se permite el uso lucrativo de este documento. Estos derechos afectan tanto al resumen del trabajo como a su contenido