Caracterización estratigráfica y textosedimentária de la cuencua lignitífera de Meirama (A Coruña)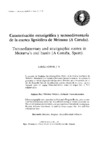 View/Open
Collections
Title
Caracterización estratigráfica y textosedimentária de la cuencua lignitífera de Meirama (A Coruña)
Alternative Title(s)
Tectosedimentary and stratigraphic contex in Meirama's coal bassin (A Coruña, Spain).
Author(s)
Date
1987
Citation
Cadernos do Laboratorio Xeolóxico de Laxe, 1987, 11: 37-49 ISSN: 0213-4497
Abstract
[Resumen] La sucesión de Unidades Litoestratigráficas dentro de la Cuenca Noeógena de Meirama, demuestra una compleja evolución Tectosedimentaria. Se constata la presencia de médios deposicionales Lacustres, Fluviales, así como grandes periodos de desarrollo forestal. La influencia tectónica dentro de la cuenca, aparece marcada tanto en etapas resedimentárias, como en etapas Sin- y Postsedimentárias.
[Abstract] Lithoestratigraphic units succesion in Meirama's Neogene-Bassin, prove a complex Tectosedimentary evolution. It is defined moving of diverse Lacustrine and Fluvial sedimentary environments, also great periods of woodland development. Tectonic influence into bassin, is trade in diverse stages: Pre-, Syn and Postsedimentary ones.
Keywords
Meirama
Neógeno
Evolución tectosedimentária
Neogene
Tectosedimentary evolution
ISSN
0213-4497