Sobre algunos elementos del contorno en el diccionario fraseológico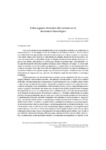 View/Open
Collections
Title
Sobre algunos elementos del contorno en el diccionario fraseológico
Author(s)
Date
2007
Citation
Martínez López, J. A. (2018). Sobre algunos elementos del contorno en el diccionario fraseológico. Revista De Lexicografía, 13, 55-65. https://doi.org/10.17979/rlex.2007.13.0.4785
Abstract
[Resumo] Como é sabido, a lingua conta con dous tipos de unidades léxicas, as monoverbais (as palabras) e as pluriverbais (grande parte das denominadas expresións fixas). Tal consideración supuxo unha paulatina entrada das expresións fixas nos dicionarios de lingua; porén, a diferente natureza das expresións pluriverbais e os elementos do seu contorno teñen reclamado unha metodoloxía particular. Froito disto foi a compilación de dicionarios exclusivamente fraseolóxicos nos que as variantes e os elementos afíns son primordiais. O presente estudo profundiza na necesidade de ir máis alá á hora de detallar os denominados «elementos do contorno », pois estes constitúen verdadeiros signos diacríticos á hora de establecer as diferenzas entre unha unidade e outra.
[Resumen] Como se sabe, la lengua cuenta con dos tipos de unidades léxicas, las monoverbales (las palabras) y las pluriverbales (gran parte de las denominadas expresiones fijas). Tal consideración ha supuesto una paulatina entrada de las expresiones fijas en los diccionarios de lengua; sin embargo, la diferente naturaleza de las expresiones pluriverbales y los elementos de su contorno ha reclamado una metodología particular. Fruto de ello ha sido la compilación de diccionarios exclusivamente fraseológicos en los que las variantes y los elementos afines son primordiales. El presente estudio profundiza en la necesidad de ir más allá a la hora de detallar los denominados «elementos del contorno», pues estos constituyen verdaderos signos diacríticos a la hora de establecer las diferencias entre una unidad y otra.
[Abstract] Language counts on to types of lexical units, the monoverbal (the word) and the pluriverbal (a considerable part of the fixed phrases). This consideration has opened up for more fixed phrases in dictionaries. However, the differences in the nature of these fixed phrases and the surrounding elements have demanded a particular method. The result of this is the creation of dictionaries of idioms, where the variants and the surrounding elements appear as central elements. The present study is focussing on the necessity of going a step further when we are talking in details about the surrounding elements, as these are the real signs to follow when we want to identify the differences in meaning and the variants of one specific unit.
Keywords
Expresión fija
Lexicografía
Variante fraseológica
Elementos del contorno
Idiom
Fixed phrase
Variants
Surrounding elements
Editor version
ISSN
1134-4539