Inmutabilidad y mutabilidad de la significación de las raíces léxicas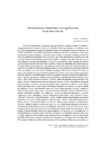 View/Open
Collections
Title
Inmutabilidad y mutabilidad de la significación de las raíces léxicas
Author(s)
Date
2007
Citation
Morera, M. (2018). Inmutabilidad y mutabilidad de la significación de las raíces léxicas. Revista De Lexicografía, 13, 67-74. https://doi.org/10.17979/rlex.2007.13.0.4786
Abstract
[Resumo] Como todo valor idiomático, a significación invariante ou interna das raíces léxicas presenta dous aspectos complementarios, ainda que en apariencia contraditorios: unha dilatada inmutabilidade sincrónica e unha esporádica mutabilidade diacrónica ou histórica. As páxinas deste artigo adícanse a ambos aspectos do funcionar e facerse das raíces léxicas.
[Resumen] Como todo valor idiomático, la significación invariante o interna de las raíces léxicas presenta dos aspectos complementarios, aunque en apariencia contradictorios: una dilatada inmutabilidad sincrónica y una más bien esporádica mutabilidad diacrónica o histórica. A ambos aspectos del funcionar y hacerse de las raíces léxicas se dedican las páginas de este artículo
[Abstract] As an idiomatic value, the invariable or internal meaning of the lexical roots reveals two complementary aspects: an extensive synchronic immutability and a rather sporadic diachronic or historical mutability. This article is dedicated to both aspects of the functions and construction of lexical roots.
Keywords
Lingüística
Semántica
Lexicología
Gramática
Morfología
Sintaxis
Lingusitics
Semantics
Lexicology
Grammar
Morphology
Syntax
Editor version
ISSN
1134-4539