Nombre individuales y colectivos: una propuesta de definición basada en pruebas sintácticas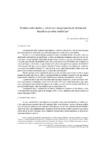 View/Open
Collections
Title
Nombre individuales y colectivos: una propuesta de definición basada en pruebas sintácticas
Author(s)
Date
2007
Citation
Revista de Lexicografía, 2007, 13: 17-44. ISSN: 1134-4539
Abstract
[Resumo] No pasado distintos gramáticos pretenderon definir o nome colectivo atendendo unicamente ao seu significado, criterio que funciona nalgúns casos pero non noutros moitos; xa que logo, ninguén que saibamos ten dado polo de agora unha definición rigorosa de nome colectivo. A definición que aquí se propón está baseada en criterios sintácticos e para chegar a ela foi preciso realizar antes diversos descubrimentos, entre eles os dous seguintes: a) que a preposición entre ten dous valores moi diferentes entre si; e b) que hai tres clases de colectivos, heteroxéneos compactos, heteroxéneos porosos e homoxéneos porosos, xa que os da cuarta clase (homoxéneos compactos) son falsos colectivos e corresponden a nomes individuais.
[Resumen] En el pasado distintos gramáticos han pretendido definir el nombre colectivo atendiendo únicamente a su significado, criterio que funciona en algunos casos pero no en muchos otros; en consecuencia, nadie que sepamos ha dado hasta ahora una definición rigurosa de Abstracts / Resúmenes / Resumos 227 228 Abstracts / Resúmenes / Resumos nombre colectivo. La definición que aquí se propone está basada en criterios sintácticos y para llegar a ella ha sido preciso realizar antes diversos descubrimientos, entre ellos los dos siguientes: a) que la preposición entre tiene dos valores muy diferentes entre sí; y b) que hay tres clases de colectivos, heterogéneos compactos, heterogéneos porosos y homogéneos porosos, ya que los de la cuarta clase (homogéneos compactos) son falsos colectivos y corresponde a nombres individuales.
[Abstract] Different linguists in the past have proposed several definitions of collective nouns looking only at their meaning, criterion that operates in some cases but not in many others. As a consequence, nobody in my knowledge has given until now a rigorous definition of collective nouns. The definition I'm proposing in this paper is based upon syntactic criteria. Previously the paper shows different discoveries, among them the following: a) Spanish preposition entre has two very different values and meanings; and b) There are three classes of collective nouns: compact heterogeneous nouns, porous heterogeneous nouns and porous homogeneous nouns, as the fourth possibility (compact homogeneous nouns) are false collectives as they are individual nouns.
Keywords
Individual
Colectivo
Discreto
Continuo
Lexicografía
Diccionarios
Individual
Collective
Discreet
Continuous
Lexicography
Dictionaries
ISSN
1134-4539