Why do computer methods for grounding analysis produce anomalous results?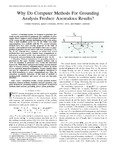 View/Open
Title
Why do computer methods for grounding analysis produce anomalous results?
Date
2003
Abstract
[Abstract] Grounding systems are designed to guarantee personal security, protection of equipments and continuity of power supply. Hence, engineers must compute the equivalent resistance of the system and the potential distribution on the earth surface when a fault condition occurs [1], [2], [3]. While very crude approximations were available until the 70's, several computer methods have been more recently proposed on the basis of practice, semi-empirical works and intuitive ideas such as superposition of punctual current sources and error averaging [1], [3], [4], [5], [6]. Although these techniques are widely used, several problems have been reported. Namely: large computational requirements, unrealistic results when segmentation of conductors is increased, and uncertainty in the margin of error [2], [5]. A Boundary Element formulation for grounding analysis is presented in this paper. Existing computer methods such as APM are identified as particular cases within this theoretical framework. While linear and quadratic leakage current elements allow to increase accuracy, computing time is reduced by means of new analytical integration techniques. Former intuitive ideas can now be explained as suitable assumptions introduced in the BEM formulation to reduce computational cost. Thus, the anomalous asymptotic behaviour of this kind of methods is mathematically explained, and sources of error are rigorously identified.
Keywords
Anomalous results
Average potential method
Boundary element method
Boundary integral equations
Computer methods for grounding analysis
Convergence of numerical methods
Fault currents
Grounding
Power system protection
Description
Aceptado en "IEEE transactions on power delivery"
Editor version
Rights
© 2003 IEEE. Personal use of this material is permitted. However, permission to reprint/republish this material for advertising or promotional purposes or for creating new collective works for resale or redistribution to servers or lists, or to reuse any copyrighted component of this work in other works must be obtained from the IEEE
ISSN
0885-8977
Related items
Showing items related by title, author, creator and subject.
Navarrina, Fermín

;

Colominas, Ignasi

;

Casteleiro, Manuel

(

2004

)

[Resumen] Para diseñar una toma de tierra es preciso calcular su resistencia equivalente y la distribución de potencial en la superficie del terreno durante una derivación de corriente [1, 2, 3]. Para elllo las normas sólo ...

Joham, Michael

;

Castro-Castro, Paula-María

;

Castedo, Luis

;

Wolfgang, Utschick

(

IEEE

,

2010

)

[Abstract] We consider the robust precoder design for multiuser multiple-input single-output (MU-MISO) systems where the channel state information (CSI) is fed back from the single antenna receivers to the centralized ...

Cueto-Felgueroso Landeira, Luis

;

Colominas, Ignasi

;

Navarrina, Fermín

;

Casteleiro, Manuel

(

Elsevier

,

2005

)

[Abstract] This paper introduces the use of Moving Least-Squares (MLS) approximations for the development of high order upwind schemes on unstructured grids, applied to the numerical solution of the compressible Navier-Stokes ...