Practical guidelines for diagnosis and treatment of acromegaly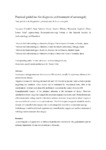 View/Open
Collections
Title
Practical guidelines for diagnosis and treatment of acromegaly
Alternative Title(s)
Guía práctica de diagnóstico y tratamiento de la acromegalia
Author(s)
Date
2013-10
Citation
Cordido F, García Arnés JA, Marazuela Aspiroz M, Torres Vela E. Practical guidelines for diagnosis and treatment of acromegaly. Endocrinol Nutr. 2013;60(8):457.e1-457.e15. English, Spanish.
Abstract
[Abstract] Acromegaly and gigantism are due to excess GH secretion, usually by a pituitary adenoma. It is an uncommon disease. Diagnosis is made by showing elevated GH and IGF-I levels in patients with a clinical picture suggesting the condition. Once excess GH is confirmed by biochemical tests, MRI of the hypothalamic–pituitary area should be performed to ascertain the source of excess GH. Transsphenoidal surgery of the pituitary adenoma is the treatment of choice. However, introduction of new drugs has changed the treatment sequence in recent years. Medical treatment with somatostatin analogs may be indicated as primary treatment in patients in whom surgery is not expected to be curative or is contraindicated. The GH receptor antagonist should be used in patients not controlled after surgery who do not adequately respond to somatostatin analogs. Radiotherapy would be indicated in patients not controlled after surgery and medical treatment or with large tumor remnants after surgery.
[Resumen] La acromegalia y el gigantismo se deben a la producción excesiva de GH, generalmente por un adenoma hipofisario. Es una enfermedad poco frecuente. El diagnóstico se realiza ante un paciente con un cuadro clínico sugerente con la demostración de concentraciones de GH e IGF-I elevadas. Tras la confirmación bioquímica del exceso de GH debe realizarse una RM del área hipotálamo-hipofisaria a fin de confirmar el origen del exceso de GH. El tratamiento de elección es el quirúrgico del adenoma hipofisario mediante cirugía transesfenoidal, si bien en los últimos años los avances en cuanto a la aparición de nuevos fármacos han modificado la secuencia terapéutica. El tratamiento médico con análogos de somatostatina puede estar indicado como procedimiento primario en pacientes no subsidiarios de curación tras cirugía, o en aquellos casos en que esta esté contraindicada. El antagonista del receptor de GH debe utilizarse en pacientes no controlados tras cirugía que no responden de forma adecuada a análogos de somatostatina. La radioterapia estaría indicada en aquellos casos no controlados tras tratamiento quirúrgico y médico o en aquellos pacientes con grandes restos tumorales tras el tratamiento quirúrgico.
Keywords
Growth hormone
Insulin-like growth factor 1
Pituitary adenoma
Acromegaly
Somatostatin analogs
Dopamine agonists
Growth hormone receptor antagonist
Hormona del crecimiento
Factor de crecimiento insulínico tipo 1
Adenoma hipofisario
Acromegalia
Análogos de somatostatina
Agonistas dopaminérgicos
Antagonista del receptor de la hormona del crecimiento
Description
Consensus document
Editor version
ISSN
1575-0922