Migration, domestic care work and public policies on long-term care in Spain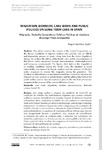 View/Open

Except where otherwise noted, this item's license is described as Attribution 4.0 International (CC BY 4.0)
Title
Migration, domestic care work and public policies on long-term care in Spain
Alternative Title(s)
Migração, trabalho doméstico e políticas públicas de cuidados de longo prazo na Espanha
Author(s)
Date
2022-08
Citation
Martínez Buján, R.. (2022). Migration, Domestic Care Work and Public Policies on Long-Term Care in Spain. REMHU: Revista Interdisciplinar Da Mobilidade Humana, 2022 30(65).
Abstract
[Abstract]: This article explores the impact of the Covid-19 pandemic on the labour conditions of migrant workers who provide care to elderly and dependent persons in Spain. Using data from the Active Population Survey, we analyse the effects of the health crisis on the precariousness of this labour sector (measured through unemployment, underemployment and temporary employment). The figures shed light on the degradation of working conditions during the health crisis, the situation of social vulnerability experienced by female workers and the absence of effective policy responses to reverse this inequality during the pandemic. This situation of subordination is structured around the connection between the demand for care workers in private homes and the philosophy behind the public welfare system. Special emphasis is given to the effect of cash transfer programs in the process of the commodification of care.
[Resumo]: Este artigo explora o impacto da pandemia de Covid-19 nas condições de trabalho das trabalhadoras migrantes que prestam cuidados a idosos e pessoas dependentes na Espanha. A partir de dados do Inquérito à População Ativa, analisamos os efeitos da crise sanitária na precarização deste setor laboral (medida por meio do desemprego, subemprego e emprego temporário). Os números lançam luz sobre a degradação das condições de trabalho durante a crise sanitária, a situação de vulnerabilidade social vivida pelas trabalhadoras e a ausência de respostas políticas efetivas para reverter essa desigualdade durante a pandemia. Essa situação de subordinação se estrutura em torno da conexão entre a demanda por cuidadoras em domicílios particulares e a filosofia por trás do sistema público de bem-estar. Ênfase especial é dada ao efeito dos programas de transferência de renda no processo de mercantilização do cuidado.
Keywords
Care work
Migrations
Welfare
Precariousness
Domestic service
Covid-19
Trabalho de cuidado
Migrações
Previdência
Precariedade
Serviço doméstico
Editor version
Rights
Attribution 4.0 International (CC BY 4.0)
ISSN
2237-9843