Apps educativas para el público infantil: juegos para el entretenimiento o recursos educativos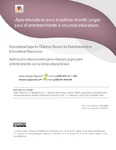 Title
Apps educativas para el público infantil: juegos para el entretenimiento o recursos educativos
Alternative Title(s)
Educational Apps for Children: Games for Entertainment or Educational Resources
Aplicações educacionais para crianças: jogos para entretenimento ou recursos educacionais

Date
2022-01-01
Citation
Digón-Regueiro, P. y Iglesias-Amorín, F. Apps educativas para el público infantil: juegos para el entretenimiento o recursos educativos. Revista Colombiana de Educación, 1(84), 1-17. https://doi.org/10.17227/rce.num84-12495
Abstract
[Resumen] La finalidad de este trabajo es el estudio de apps educativas para el público infantil, a partir de la creación de un modelo de análisis de contenido. Tras una amplia revisión de trabajos de carácter internacional que presentan modelos y rúbricas específicas para evaluar apps educativas para niños y niñas de la etapa de educación infantil, se crea un modelo que, de forma detallada y comprensiva, permite abordar las características pedagógicas, técnicas y de diseño de estos programas. A partir de este modelo, y siguiendo la metodología de análisis de contenido deductivo y cualitativo, se examinan diez apps populares en España, que son seleccionadas en una plataforma de analítica de apps mediante una serie de filtros. Los resultados muestran que las aplicaciones clasificadas como educativas no reúnen todas las condiciones necesarias para ser consideradas como tales, obedecen principalmente a juegos de ordenador o juegos serios de simulación y de ejercitación y práctica, orientados a un aprendizaje más memorístico que significativo. Se puede afirmar que, a pesar de tener un supuesto propósito educativo, cumplen más una función de entretenimiento, además de cebo para la obtención de datos, publicidad y venta de productos.
[Abstract] The purpose of this study is the analysis of educational apps for children based on the design of a content analysis model. After an extensive reviewof international studies that propose specific models and rubrics for assessing educational apps for pre-schoolers, a model is designed in order to give a detailed and comprehensive analysis of the pedagogical and technical characteristics of these programs. Based on this model, following a qualitative and deductive content analysis methodology, ten popular apps in Spain, selected from an app analytics platform by applying a series of filters, are examined. The results of this study show that the applications classified as "educational" do not meet all the necessary conditions to be considered as such, being mainly educational computer games or serious games of simulation and drill and practice activities oriented more to rote learning than to meaningful learning. It can be said that, although they have an "assumed" educational purpose, they are more directed to entertainment, also working as bait for obtaining data, advertising and selling products
[Resumo] O objetivo deste estudo é a análise de aplicações educacionais para crianças a partir da criação de um modelo de análise de conteúdo. Após uma extensa revisão de trabalhos em nível internacional que apresentam modelos e rubricas específicas para a análise de aplicações educacionais para meninos e meninas da educação infantil, é criado um modelo que, de forma detalhada e abrangente, permite analisar as características pedagógicas, técnicas e desenho desses programas. Com base neste modelo, seguindo a metodologia de análise de conteúdo dedutiva e qualitativa, dez aplicações populares na Espanha são examinados, os quais são selecionados em uma plataforma de análise de aplicativos através da aplicação de uma série de filtros. Os resultados deste estudo mostram que as aplicações classificadas como "educacionais" não reúnem todas as condições necessárias para serem consideradas como tal, sendo principalmente jogos sérios de simulação e exercício e prática orientados para a aprendizagem mais mecanizada do que significativa. Pode-se dizer que, apesar deterem uma pretensa finalidade educacional, cumprem mais uma função de entretenimento, sendo também isca para obtenção de dados, publicidade e venda de produtos.
Keywords
Apps educativas
Educación infantil
Juegos de ordenador
Juegos serios
Análisis de contenido
Rúbricas
Modelo de análisis
Aprendizaje memorístico
Aprendizaje significativo
Educational apps
Early childhood education
Computer games
Serious games
Content analysis
Model of analysis
Rubrics
Rote learning
Meaningful learning
Apps educationais
Educação infantil
Jogos de computador
Jogos "sérios"
Análise de conteúdo
Modelo de análise
Rubrica
Aprendizagem memorística
Aprendizagem significativa
Editor version
Rights
Atribución-NoComercial 3.0 España
ISSN
0120-3916