Las ciudades autónomas de Ceuta y Melilla ante las crisis financiera y sanitaria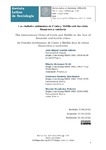 Except where otherwise noted, this item's license is described as Atribución-CompartirIgual 4.0 Internacional (CC BY-SA 4.0)
Collections
Title
Las ciudades autónomas de Ceuta y Melilla ante las crisis financiera y sanitaria
Alternative Title(s)
The Autonomous Cities of Ceuta and Melilla in the Face of Financial and Health Crises
As Cidades Autónomas de Ceuta e Melilla face às crises financeiras e sanitárias

Author(s)
Date
2022-02-01
Citation
Cantón Gálvez, J. M., Si Ali, M. M., Haz Gomez, F. E., & Hernández Pedreño, M. (2022). Las Ciudades autónomas de Ceuta y Melilla ante las crisis financiera y sanitaria . Revista Latina de Sociología, 11(1), 1-29. https://doi.org/10.17979/relaso.2021.11.1.8558
Abstract
[Resumen] Ceuta y Melilla son dos ciudades autónomas españolas que comparten una serie de características territoriales, jurídicas, económicas y demográficas. En ambos casos se trata de contextos fronterizos con Marruecos. Asimismo, ostentan un estatus de ciudad autónoma, si bien con limitadas potestades legislativas respecto a las comunidades autónomas, en varios ámbitos (Educación, Sanidad o Empleo), dependiendo en ellos del Estado para cubrir las necesidades de los ciudadanos de ambas ciudades, donde la diversidad cultural es otra de sus peculiaridades. Dadas las características de dichas ciudades autónomas su realidad social es bastante desconocida, ya que se omiten en un gran número de estudios autonómicos o bien se ofrecen sus datos de forma conjunta. Con el fin de llenar este vacío, este trabajo ofrece una visión de la situación social de ambas ciudades, así como la respuesta institucional con la que se cuenta en ellas. El análisis se realiza para dos fases diferenciadas, la primera abarca la crisis financiera de 2008, mientras la segunda se centra en la actual pandemia del covid-19. La metodología empleada es doble, pues en ambos periodos se combina el análisis estadístico de indicadores sociales con la opinión de los profesionales, recogida mediante entrevistas o grupos de discusión. A pesar de las similitudes mencionadas, el estudio permite observar importantes diferencias entre ambas ciudades autónomas, así como distintos niveles de gasto social, tanto en la crisis financiera, como en la actual pandemia. Si bien es cierto que la aparición de la pandemia ha acercado los riesgos sociales de ambas ciudades.
[Abstract] The Spanish autonomous cities of Ceuta and Melilla share a series of territorial, legal, economic and demographic characteristics, including a border with Morocco and a more limited form of autonomous government than the regions in areas such as education, health and employment, in which the Spanish state retains competence. Research on the social realities of life in Ceuta and Melilla is quite limited, as the cities are frequently overlooked in studies that deal with the autonomous regions or treated as a single unit. This article examines the social situation in both cities and the actions and decisions of the different administrations in each case. The study is divided into two sections: the first deals with the 2008 financial crisis, while the second focuses on the ongoing Covid-19 pandemic. The methodology combines statistical analysis of social indicators with the opinions of professionals, collected through interviews and focus groups. The results reveal significant differences between the cities, including different levels of social spending during both periods of crisis. The results also show an increased level of social risk in both instances as a consequence of the recent global health emergency.
[Resumo] As ciudades de Ceuta e Melilla são duas cidades espanholas autónomas que partilham entre si uma série de características territoriais, jurídicas, económicas e demográficas. Em ambos os casos trata-se de contextos fronteiriços com Marrocos. Do mesmo modo, possuem o estatuto de Cidade Autónoma, embora com poderes legislativos limitados em várias áreas (Educação, Saúde ou Emprego), em comparaçàs as outras Comunidades Autónomas espahnolas. Estas cidades dependem do Estado espanhol para satisfazer as necessidades dos serviços públicos. Além disso, possuem uma diversidade cultural e outras peculiaridades. Devido ao seu pequeno tamanho, sua realidade social é amplamente desconhecida, pois em grande número de estudos regionais seus dados são omitidos ou oferecidos em conjunto. Para preencher esta lacuna, este artigo oferece uma visão geral da situação social de ambas as cidades, bem como uma descrição da resposta institucional disponível para elas. Foi feita uma análise para duas fases bem diferenciadas, a primeira abrange a crise financeira de 2008, enquanto a segunda afeta a atual pandemia de Covid-19. Uma metodologia dual utilizou, para ambos os períodos, uma análise estatística de dois indicadores sociais e combinada com a opinião de dois profissionais, coletada por meio de entrevistas ou grupos de discussão. Apesar das semanas supracitadas, este estudo permite-nos observar diferenças importantes entre as duas cidades autónomas, bem como diferentes níveis de gastos sociais, tanto na crise financeira como na atual pandemia. Embora seja verdade que o surgimento de uma pandemia roça as falésias sociais de ambas as cidades.
Keywords
Ceuta
Melilla
Política social
Crisis financiera
Crisis Covid-19
Sociedad del riesgo
Riesgo social
Social Policy
Financial crisis
Covid-19 crisis
Social risk
Risco social
Crise financieira
Crise Covid-19
Editor version
Rights
Atribución-CompartirIgual 4.0 Internacional (CC BY-SA 4.0)
ISSN
2253-6469
Related items
Showing items related by title, author, creator and subject.
Álvarez-Benavides, Antonio

(

Universidade da Coruña

,

2012

)

[Abstract] Bourdieu passed away ten years away. His last works were focused on the globalization and the extension of neoliberalism. Bourdieu, who had developed an enormous theory corpus, changed his academic interest to ...

Arriba Rodríguez, Paula de

(

2013

)

[Resumen] El presente trabajo pretende hacer una aproximación de carácter profesional a la situación actual del pequeño comercio del centro de A Coruña, concretamente del barrio del Obelisco. Tras un análisis cuantitativo, ...

Veiga-Seijo, Silvia

(

2016

)

[Resumen] Introducción: El trabajo es una ocupación importante en la vida de los seres humanos. A lo largo de la historia, el objetivo de la Terapia Ocupacional en relación al trabajo ha sido el uso del mismo como medio ...