Towards a Semi-Automated Data-Driven Requirements Prioritization Approach for Reducing Stakeholder Participation in SPL Development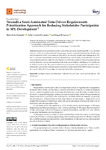 Collections
Title
Towards a Semi-Automated Data-Driven Requirements Prioritization Approach for Reducing Stakeholder Participation in SPL Development
Date
2021
Citation
Limaylla, M.I.; Condori-Fernandez, N.; Luaces, M.R. Towards a Semi-Automated Data-Driven Requirements Prioritization Approach for Reducing Stakeholder Participation in SPL Development. Eng. Proc. 2021, 7, 27. https://doi.org/10.3390/engproc2021007027
Abstract
[Abstract] Requirements prioritization (RP), part of Requirements engineering (RE), is an essential activity of Software Product-Lines (SPL) paradigm. Similar to standard systems, the identification and prioritization of the user needs are relevant to the software quality and challenging in SPL due to common requirements, increasing dependencies, and diversity of stakeholders involved. As prioritization process might become impractical when the number of derived products grows, recently there has been an exponential growth in the use of Artificial Intelligence (AI) techniques in different areas of RE. The present research aims to propose a semi-automatic multiple-criteria prioritization process for functional and non-functional requirements (FR/NFR) of software projects developed within the SPL paradigm for reducing stakeholder participation.
Keywords
Multiple-criteria prioritization
Software Product Line
Artificial Intelligence (AI) techniques
Description
Presented at the 4th XoveTIC Conference, A Coruña, Spain, 7–8 October 2021.
Editor version
Rights
Atribución 3.0 España