A intermediação virtual dos serviços turísticos: um estudo com ênfase nos usuários de sites de hospedagem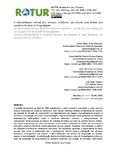 Except where otherwise noted, this item's license is described as Atribución-Compartir igual 4.0 Internacional
Collections
Title
A intermediação virtual dos serviços turísticos: um estudo com ênfase nos usuários de sites de hospedagem
Alternative Title(s)
La intermediación virtual de los servicios turísticos: un estudio con énfasis en los usuarios de sitios web de alojamiento
Virtual Intermediation of Tourism Services: An Analysis of User Behaviour on Accommodation Websites

Author(s)
Date
2021-07-01
Citation
Riani Costa Perinotto, André; Gomes Pereira Santos, Anna Isabelle; Machado de Araújo, Sávio y Max Tavares, Jean (2021). A intermediação virtual dos serviços turísticos: um estudo com ênfase nos usuários de sites de hospedagem. Rotur, Revista de Ocio y Turismo, 15(2), 107-129. https://doi.org/10.17979/rotur.2021.15.2.6907
Abstract
[Resumo] A criação da internet ao final de 1990 transformou o setor turístico, colocando-o como um dos setores essenciais do comércio eletrônico. Este estudo objetiva verificar a influência da internet na tomada de decisão do consumidor no planejamento da viagem, especificamente quanto a escolha e contratação dos meios de hospedagem. Para a construção desta pesquisa, foi realizado levantamento bibliográfico sobre o comércio eletrônico, turismo e comportamento do consumidor. Esta pesquisa se utilizou de coletada de dados por meio do método Survey Online, que foram respondidos por 366 internautas, concentrados no Estado do Ceará, um dos maiores mercados online do Nordeste, particularmente na sua capital, Fortaleza. Para analisar os dados foi utilizada a técnica de estatística descritiva. Os resultados apontam a importância do meio virtual, bem como a praticidade que o smartphone oferece para a realização dos serviços turísticos, contrapondo, até mesmo, o fator financeiro em termos de disposição do usuário quanto a sua utilização. A contribuição destes resultados para o setor de hospedagens se faz por meio da reiteração da importância do comércio eletrônico na relação de consumo, oferecendo experiências de acordo com o perfil, e principalmente em uma versão adaptativa (responsiva) para smartphones.
[Resumen] La creación de internet a finales de los noventa transformó el sector turístico, situándolo como uno de los sectores imprescindibles del comercio electrónico. Este estudio tiene como objetivo verificar la influencia de Internet en la toma de decisiones del consumidor en la planificación del viaje, específicamente en relación con la elección y contratación de instalaciones de alojamiento. Para la construcción de esta investigación, se realizó una encuesta bibliográfica sobre comercio electrónico, turismo y comportamiento del consumidor. Esta encuesta utilizó datos recopilados a través del método Encuesta en línea, que fueron respondidos por 366 usuarios de Internet, concentrados en el Estado de Ceará, uno de los mercados en línea más grandes del noreste, particularmente en su capital, Fortaleza. Para analizar los datos, se utilizó la técnica de estadística descriptiva. Los resultados apuntan a la importancia del entorno virtual, así como a la practicidad que ofrece el teléfono inteligente para la realización de servicios turísticos, contrarrestando, incluso, el factor financiero en términos de la disposición del usuario con respecto a su uso. La contribución de estos resultados al sector del alojamiento se realiza reiterando la importancia del comercio electrónico en la relación con el consumidor, ofreciendo experiencias de acuerdo con el perfil y principalmente en una versión adaptativa (sensible) para teléfonos inteligentes.
[Abstract] The creation of the internet in the late 1990s transformed the tourism industry, positioning it as one of the leading sectors in e-commerce. The aim of this study is to examine the influence of the internet on customer decision-making when planning a trip, specifically in relation to the selection and reservation of accommodation. The study begins with a review of the existing literature on e-commerce, tourism and consumer behaviour. Data were collected using an online survey, which was completed by 366 internet users in the state of Ceará (including the capital, Fortaleza), one of the largest online markets in north-eastern Brazil, and analysed using descriptive statistics. The results highlight the importance of online environments, the practical advantages of smartphone use for tourism services, and the value placed on these conveniences over even financial considerations. The study concludes by corroborating the importance of e-commerce in matching experiences to customer profiles through careful customer relationship management and adaptive (responsive) smartphone interfaces.
Keywords
e-Commerce
Turismo
Sites de hospedagem
Comportamento do consumidor
Internet
Comercio electrónico
Sitios de alojamiento
Comportamiento del consumidor
Tourism
Accommodation websites
Consumer behaviour
Editor version
Rights
Atribución-Compartir igual 4.0 Internacional
ISSN