Lazer noturno e turismo como direito das pessoas com deficiência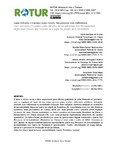 Except where otherwise noted, this item's license is described as Atribución-Compartir igual 4.0 Internacional
Collections
Title
Lazer noturno e turismo como direito das pessoas com deficiência
Alternative Title(s)
Ocio nocturno y turismo como derecho de las personas con discapacidad
Night-Time Leisure and Tourism as a Right for People With Disabilities

Author(s)
Date
2021-07-01
Citation
Santana de Sousa, D., Maia Farias Vasconcelos , S., Renner Rodrigues Soares, J., & Vidal Maia , J. (2021). Lazer noturno e turismo como direito das pessoas com deficiência. ROTUR. Revista de Ocio y Turismo, 15(2), 168-181. https://doi.org/10.17979/rotur.2021.15.2.7552
Abstract
[Resumo] O lazer é direito social e fator importante para efetiva qualidade de vida. Entende-se, portanto, que os espaços de lazer devem estar prontos para receber diferentes públicos, incluindo pessoas com deficiência ou mobilidade reduzida. Este trabalho objetivou analisar as condições de acessibilidade física em bares da cidade de Fortaleza-CE, consolidada como um dos destinos turísticos mais procurados no Brasil, tanto por suas praias, como também pelos espaços noturnos de lazer. Foram analisados os bares inscritos na Associação Brasileira de Bares e Restaurantes no Ceará (Abrasel–CE), com uma pesquisa exploratória, descritiva, de caráter qualitativo. Os dados foram recolhidos por meio de questionário digital construído a partir dos Recursos de Acessibilidade (Ministério do Turismo) entre maio e julho de 2020. Concluiu-se que, apesar de alguns estabelecimentos apresentarem parte dos Recursos de Acessibilidade, a acessibilidade nos bares de Fortaleza é questionável. Porém, identificando-se essas falhas, inicia-se o processo de resolução desse problema.
[Resumen] El ocio es un derecho social de todos y un factor importante para una efectiva calidad de vida. Los espacios de ocio deben estar preparados para recibir a todos los públicos, incluidas las personas con discapacidad. Este estudio tuvo como objetivo analizar las condiciones de accesibilidad física en bares y sus alrededores en la ciudad de Fortaleza-CE. Es uno de los destinos turísticos más buscados de Brasil, no solo por sus playas, sino también por sus lugares de ocio nocturno. Se analizaron los bares registrados en la Asociación Brasileña de Bares y Restaurantes en Ceará (Abrasel-CE) con una investigación cualitativa, exploratoria y descriptiva. Los datos se recopilaron mediante formulario digital construido a partir de los Recursos de Accesibilidad (Ministerio de Turismo) entre los meses de mayo y julio de 2020. Aunque algunos establecimientos tienen parte de los Recursos de Accesibilidad, se concluyó que la accesibilidad en los bares de Fortaleza es cuestionable. Sin embargo, con la identificación de estos fallos se entiende que se da un primer paso para la resolución de este problema.
[Abstract] Leisure is a social right and has a major influence on effective quality of life. Leisure spaces should accommodate users of all conditions, including people with disabilities. The aim of this article is to analyse the standard of accessibility in bars in the city of Fortaleza (Brazil). Fortaleza is one of the most sought-after tourist destinations in Brazil, not only for its beaches, but also for its night-time leisure spots. The study focuses on a selection of bars from the Brazilian Association of Bars and Restaurants, and uses an exploratory-descriptive qualitative research approach. Data were collected using an online questionnaire based on the accessibility resources recommended by the Ministry for Tourism, which was applied between the months of May and July 2020. The results of the survey reveal a certain level of compliance with the Ministry's recommendations, but a clear majority of bars that do not, thus highlighting the need for significant improvement and solutions in this regard.
Keywords
Lazer noturno
Acessibilidade
Bares
Fortaleza
Turismo
Ocio nocturno
Accesibilidad
Night-time leisure
Accessibility
Bars
Tourism
Editor version
Rights
Atribución-Compartir igual 4.0 Internacional
ISSN