Los centros de acogida para víctimas de violencia de género en Galicia y Asturias, ¿modelos arquitectónicos de hogar?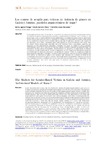 Collections
Title
Los centros de acogida para víctimas de violencia de género en Galicia y Asturias, ¿modelos arquitectónicos de hogar?
Alternative Title(s)
The Shelters for Gender-Based Victims in Galicia and Asturias, Architectural Models of Home?
Date
2021
Citation
Ugarte- Fidalgo, Selina, Carreiro- Otero, María, López-González, Cándido. "Los centros de acogida para víctimas de violencia de género en Galicia y Asturias, ¿modelos arquitectónicos de hogar?".ACE Architecture, City and Environment year 16 nº 46 .doi:10.5821/ace.16.46.9703
Abstract
[Resumen] En la Inglaterra de los años 70 del siglo XX, se pusieron en marcha los primeros refugios para víctimas de violencia de género, impulsados por activistas y organizaciones feministas. Con el tiempo, se han incorporado como un imprescindible recurso habitacional a la política de lucha contra la violencia de género. Pese a ello, al menos hasta el momento, en España no se ha tenido en cuenta la adecuación de sus condiciones arquitectónicas al doble objetivo que han de satisfacer: proteger a las mujeres de sus agresores, por un lado, y prestarles apoyo para superar su lesiva situación por otro. Según esto, los centros deben proporcionar seguridad, así como bienestar físico y psicológico, aspectos que responden a unas características espaciales y formales que están por definir. El artículo propone determinarlas a partir de la hogaridad, término que liga las cualidades espaciales propias del hogar con indicadores arquitectónicos mensurables, independientes del programa, la organización, el enfoque conceptual y el tipo residencial del recurso. La aplicación de ese conjunto de indicadores constituye un método para la valoración, individual o comparada, de cualquier centro de acogida, al señalar los requerimientos espaciales y formales necesarios para la puesta en marcha del recurso habitacional. Para verificar su idoneidad se aplica a tres ejemplos que, ubicados en el ámbito territorial de las comunidades autónomas de Galicia y Asturias, representan las tres modalidades existentes de centros. Los resultados muestran la utilidad del método, sea como una herramienta para el diagnóstico de los centros existentes, sea como una guía para el proyecto arquitectónico, ex novo o de acondicionamiento.
[Abstract] In the 70s of the 20th century, the first shelters for victims of gender-based violence were set up in England, promoted by activists and feminist organizations. Over the time, they have been incorporated as an essential residential facility into the policy to fight against gender-based violence. Despite this, at least so far, Spain has not taken into account the adaptation of their architectural conditions to the double objective that they have to fulfill: protecting women from their aggressors, on one hand, and to provide them with support to overcome their harmful situation, on the other. According to this, the facilities have to provide security, as well as physical and psychological wellbeing, aspects that respond to spatial and formal characteristics that are yet to be defined. The article proposes to determine them from the homeness, a term that link the proper spatial qualities of a home with measurable architectural indicators, independent of the programme, the organization, the conceptual approach, and the housing type of the facility. The application of this set of indicators constitutes a method for the assessment, individual or compared, of any shelter by pointing out the spatial and formal requirements that are necessary for the setting up of any housing facility. In order to verify their suitability, they are applied to three examples that, located within the territorial scopes of the autonomous communities of Galicia and Asturias, represent the three existing forms of the shelters. The results prove the usefulness of the method, either as a diagnostic tool for already existing facilities or as a guide for an architectural project, ex novo or fitting-out works.
Keywords
Recurso habitacional
Red de acogida
Bienestar físico
Bienestar psicológico
Housing facility
Housing network
Psychological wellbeing
Physical wellbeing
Editor version
ISSN
1886-4805