Cultural Studies and Space in Contemporary Narratives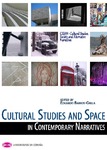 Except where otherwise noted, this item's license is described as Atribución-NoComercial-CompartirIgual 4.0 Internacional
Collections
Title
Cultural Studies and Space in Contemporary Narratives
Author(s)
Date
2021
Abstract
[Resumen] El presente volumen responde a la necesidad creada por un grupo de jóvenes investigadores que se plantearon la siguiente pregunta: ¿qué espacios ocupan en la investigación académica los discursos con los que más empatizan las nuevas generaciones de lectores, espectadores o creadores? Resulta evidente que no se puede articular una respuesta única en torno a un planteamiento tan amplio y heterogéneo, pero la discusión alrededor del alcance de sus premisas sí merece una indagación más extensa y detenida. El marco teórico que subyace en el presente estudio se ha desarrollado necesariamente desde el ámbito de los Estudios Culturales, y más concretamente dentro del debate, ya canonizado, entre la cultura alta y la cultura popular.
Keywords
Narrativa contemporánea
Espacios literarios
Estudios Culturales
Narrativas alternativas
Description
Cultural Studies and Space in Contemporary Narratives recoge los trabajos del grupo de investigación CSSAN-UDC: Society and Alternative Narratives in Cultural Studies. Desde su formación este grupo se ha ocupado de investigar las narrativas de discursos que no son canónicos en las enseñanzas universitarias de Letras o Humanidades, tales como las narrativas del cine, de las series televisivas, de la danza, de la música, de los videojuegos, del performance o de la literatura fantástica y la ciencia ficción. Entre los resultados de este grupo de investigación se encuentra la organización de varias ediciones de la Conference Alternative Narratives and Cultural Studies (2017-2021) y de tres ediciones del Cultural Studies Seminar (2019-2021).
Editor version
Rights
Atribución-NoComercial-CompartirIgual 4.0 Internacional
ISBN
978-84-9749-811-1 (Electrónico, 2021)