El análisis sociológico del consumo: una revisión histórica de sus desarrollos teóricos.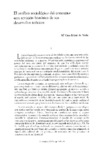 View/Open
Collections
Title
El análisis sociológico del consumo: una revisión histórica de sus desarrollos teóricos.
Author(s)
Date
2004
Citation
Sociológica. Revista de pensamiento social, 2004, 5: 161-188. ISSN: 1137-1234
Abstract
[Abstract] The article makes a route by the main currents and theoretical contributions in the sociological analysis of the consumption. From Veblen to the post... modern consumption, the Sociology of Comsumption is outstanding the social and cultural aspects that surround a so complex and relevant phenomenon in our capi... talist societies as it is the consumption. The author warns of the suitability to do this route considering the influence of the advances in social theory as well as the trans... formations of the capitalist society on the exposed expositions. In this sense the text is crossed by diverse controversies that have centered the interest of the sociological discipline like is the more or less active character of the social actors or the paper of the social classes in the societies outposts, and that makes comprehensible the slid... ing that the theoretical interpretations of consumption have shown from a concep... tion of consumption as mere marker or expression of the economic position to the idea of consumption as a process by means of which the personal and social identi... ty is formed.
[Resumen] El artículo realiza un recorrido por las principales corrientes y aportaciones teóricas en el análisis sociológico del consumo. Desde el consumo ostentoso de Veblen hasta el consumo postmoderno, la Sociología del Consumo ha destacado los aspectos sociales y culturales que rodean un fenómeno tan complejo y relevante en nuestras sociedades capitalistas como éste. La autora advierte de la idoneidad de hacer este recorrido teniendo en cuenta la influencia de los avances en teoría social así como las transformaciones de la sociedad capitalista sobre los planteamientos expuestos. En este sentido el texto se ve atravesado por diversas controversias que han centrado el interés de la disciplina sociológica como es el carácter más o menos activo de los actores sociales o el papel de las clases sociales en las sociedades avan... zadas, y que hacen comprensible el deslizamiento que las interpretaciones teóricas del consumo han mostrado desde una concepción del consumo como mero marca... dor o expresión de la posición económica a la idea del consumo como un proceso a través del cual se configura la identidad personal y social.
ISSN
1137-1234