Modelizaciones en torno al problema de la construcción del sujeto.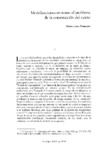 View/Open
Collections
Title
Modelizaciones en torno al problema de la construcción del sujeto.
Author(s)
Date
2001
Citation
Sociológica. Revista de pensamiento social, 2001, 4: 59-84. ISSN: 1137-1234
Abstract
[Abstract] From Foucault's point of view, a "subject" is a body that resists the radical ins.. cription of the discurssive..power of history and points at the place of its emergen.. ce at the very place that a subject..power variable shows. This conception is adop.. ted by some currents of feminist thought puting aside the old way that runs from o. de Gouges to S. de Beauvoir. Among others, Judith But1er seems to be the most interesting one. She starts a philosophica1 discussion about the most representative points of feminist thought. The radicallity of her appreciations move to reflexion and ana1ysis. This paper intends to revise the most signifcative ones.
[Resumen] En la concepción foucaultiana, para que haya sujeto, debe haber al menos un cuerpo que resista la inscripción del poder...discurso de la historia y una trama gene.. rada precisamente por ese poder..discurso que pergeñe el lugar de la emergencia, de la variable que es ese sujeto, fabricado por/en dicha trama. Esta singular concepción es retomada por algún sector importante del feminismo, el que hasta entonces se había movido en la línea que va de o. de Gouges a S. de Beauvoir. Entre otras, Judith But1er se presenta como una polémica renovación de los temas y de los modos de la reflexión feminista y sus consecuencias. Dada la radicalidad y la origi.. na1idad de algunas de sus observaciones, en este trabajo examinamos las que cree.. mos filosóficamente más interesantes.
ISSN
1137-1234