Lingua, poder e adolescencia no proceso de substitución lingüística: análise crítica do discurso nun centro de ensino secundario dunha vila galega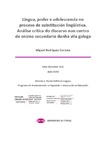 Title
Lingua, poder e adolescencia no proceso de substitución lingüística: análise crítica do discurso nun centro de ensino secundario dunha vila galega
Author(s)
Directors
DePalma, Renée
Date
2020
Abstract
[Resumen] A lo largo de las últimas décadas la disminución en el número de hablantes del idioma gallego ha sido especialmente acusada en los sectores de edad correspondientes a la infancia y la juventud. Ante este desalentador panorama, cuarenta años después de la incorporación parcial de la lengua gallega al sistema educativo, es hora de analizar en profundidad cuál es el papel real que juegan los centros educativos en la preservación, la continuidad histórica y la promoción del uso de la lengua propia del país como vehículo normal de comunicación. También es necesario detectar si, como parece, muchas de las situaciones que dentro de los centros educativos se producen en torno al conflicto lingüístico gallego causan relaciones de desigualdad por razón de idioma entre el alumnado. Junto con la observación participante realizada por el investigador durante un largo período de tiempo, este estudio de caso recoge el testimonio de diez personas informantes de ambos sexos, gallegohablantes efectivas o con voluntad de serlo, exalumnas y exalumnos de un centro público de educación secundaria en una vila gallega durante la última década. Estos testimonios servirán de base para un análisis en profundidad que nos aporte una luz sobre las anteriores cuestiones.
[Abstract] Over the last few decades, the decrease in the number of speakers of the Galician language has been particularly pronounced in the age groups of childhood and youth. Given this discouraging picture, forty years after the partial incorporation of the Galician language into the educational system, it is time for a thorough analysis of the real role that schools play in the preservation, the historical continuity and the promotion of the usage of the community's own language as a normal vehicle of communication. It is also necessary to detect whether, as it seems, many of the situations that occur in schools relative to the Galician language conflict may cause relations of inequality among students due to language usage. Along with the participant observation carried out by the researcher during a long period of time, this case study collects the testimony of ten informants of both sexes, effective or endeavouring Galician speakers, former students of a public secondary school in a Galician small town during the last decade. All these testimonies will serve as a basis for an in-depth analysis that sheds light on the aforementioned issues.
[Resumo] Ao longo das últimas décadas o descenso do número de falantes do idioma galego foi especialmente acusado nos sectores de idade correspondentes á infancia e á mocidade. Ante este desalentador panorama, corenta anos despois da incorporación parcial do idioma galego ao sistema educativo, é hora de analizar en profundidade cal é o papel real que os centros educativos xogan na preservación, na continuidade histórica e na promoción do uso da lingua propia do país como vehículo normal de comunicación. Tamén é preciso detectar se, como parece, moitas das situacións que dentro dos centros educativos se producen por volta do conflito lingüístico galego provocan relacións de desigualdade por razón de lingua entre o alumnado. Xunto coa observación participante exercida polo investigador durante un longo período de tempo, este estudo de caso recolle o testemuño de dez persoas informantes de ambos os sexos, galegofalantes efectivas ou con vontade de selo, ex-alumnas e ex-alumnos dun centro público de educación secundaria dunha vila galega durante a pasada década. Estes testemuños servirán de base para unha análise en profundidade que nos achegue unha luz sobre as anteriores cuestións.
Keywords
Gallego (Lengua)-Aspecto social
Lenguaje y lenguas-Uso según la edad
Gallego (Lengua)-Normalización
Adolescentes-Psicología
Sistema educativo
Conflicto lingüístico
Análisis del discurso
School harassment
Passing
Discourse analysis
Linguistic conflict
Educational system
Galician language
Encubrimiento
Acoso escolar
Lingua galega
Conflito lingüístico
Análise do discurso
Encubrimento
Description
Programa Oficial de Doutoramento en Equidade e Innovación en Educación. 5016V01
Rights
Os titulares dos dereitos de propiedade intelectual autorizan a visualización do contido desta tese a través de Internet, así como a súa reproducción, gravación en soporte informático ou impresión para o seu uso privado e/ou con fins de estudo e de investigación. En nengún caso se permite o uso lucrativo deste documento. Estos dereitos afectan tanto ó resumo da tese como o seu contido Los titulares de los derechos de propiedad intelectual autorizan la visualización del contenido de esta tesis a través de Internet, así como su repoducción, grabación en soporte informático o impresión para su uso privado o con fines de investigación. En ningún caso se permite el uso lucrativo de este documento. Estos derechos afectan tanto al resumen de la tesis como a su contenido