El Buen Vivir como discurso contrahegemónico. Postdesarrollo, indigenismo y naturaleza desde la visión andina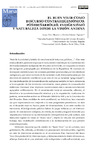 View/Open
Title
El Buen Vivir como discurso contrahegemónico. Postdesarrollo, indigenismo y naturaleza desde la visión andina
Alternative Title(s)
Bem Viver como discurso contra-hegemônico. Pós-desenvolvimento, indigenismo e natureza desde a visão andina
Buen Vivir as a counter-hegemonic discourse. Post-development, indigenism and the nature from the Andean point of view

Author(s)
Date
2020
Citation
Polo Blanco, Jorge , & Piñeiro Aguiar, Eleder. (2020). El Buen Vivir como discurso contrahegemónico. Postdesarrollo, indigenismo y naturaleza desde la visión andina. Mana, 26(1), e261205. https://doi.org/10.1590/1678-49442020v26n1a205
Abstract
[Resumen] En el presente trabajo queremos ahondar en la noción "Buen Vivir", entendiéndolo como un concepto con enorme potencia contrahegemónica. Para ello, indagaremos en su fuerte crítica a la modernidad eurocéntrica, en concreto, a las ideas de "progreso" y "desarrollo" provenientes del Norte Global. Analizaremos igualmente cómo algunos elementos de la cosmovisión indígena andina han contribuido notablemente a la construcción de discursos y praxis que han intentado salirse del paradigma desarrollista y extractivista. Consideraremos, por ende, que el "Buen Vivir", cuya presencia puede rastrearse incluso en geografías indígenas no andinas, ha constituido un contrapunto epistémico y ético-político al desarrollismo, al productivismo y al neoliberalismo.
[Abstract] In this article we delve into the notion "Good Living", understanding it as a concept with immense counterhegemonic power. We investigate its compelling criticism of Eurocentric modernity, specifically the ideas of "progress" and "development" deriving from the Global North. We also analyze how some elements of the indigenous Andean worldview have contributed significantly to the construction of discourses and praxis that have tried to bypass of the developmentalist and extractivist paradigm. We therefore consider that "Good Living," whose presence can be traced even in non-Andean indigenous geographies, has constituted an epistemic and ethical-political counterpoint to developmentalism, productivism and neoliberalism.
[Resumo] No presente trabalho, nós queremos aprofundar a noção de "Bom Viver", entendendo-a como um conceito com enorme poder contra-hegemônico. Para fazer isso, nós investigaremos as suas fortes críticas à modernidade eurocêntrica, específicamente às ideias de "progresso" e "desenvolvimento" do Norte Global. Nós analisaremos também como alguns elementos da visão de mundo indígena andina contribuíram significativamente para a construção de discursos e práxis que tentaram sair do paradigma desenvolvimentista e extrativista. Consideraremos, portanto, que o "Bom Viver", cuja presença pode ser rastreada mesmo em geografias indígenas não andinas, constituiu um contraponto epistêmico e ético-político ao desenvolvimentismo, produtivismo e neoliberalismo.
Keywords
Buen Vivir
Desarrollismo
Productivismo
Extractivismo
Neoliberalismo
Good living
Developmentalism
Productivism
Extractivism
Neoliberalism
Bom viver
Desenvolvimentismo
Produtivismo
Extrativismo
Editor version
Rights
Atribución 4.0 España
ISSN
1678-4944