Fórmulas de emisión y consumo de los debates televisivos en España en las elecciones legislativas de 2019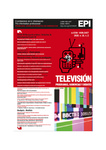 Title
Fórmulas de emisión y consumo de los debates televisivos en España en las elecciones legislativas de 2019
Alternative Title(s)
Broadcast formulas and television debates consumption in Spain in the 2019 parliamentary election
Date
2020
Citation
González-Neira, Ana; Berrocal-Gonzalo, Salomé; Zamora-Martínez, Patricia (2020). "Fórmulas de emisión y consumo de los debates televisivos en España en las elecciones legislativas de 2019". El profesional de la información, v. 29, n. 2, e290221. https://doi.org/10.3145/epi.2020.mar.21
Abstract
[Resumen] Los debates electorales televisivos son uno de los acontecimientos más relevantes en período electoral por su elevada audiencia y centrar la agenda mediática. Esta investigación examina la transmisión de este formato ante la multiplicación de pantallas, la difusión en redes sociales, la introducción de los servicios on demand y el consumo en movilidad junto con la aparición de nuevos actores televisivos. Este estudio de tipo cuantitativo analiza los debates emitidos en las elecciones legislativas de España, celebradas el 28 de abril de 2019, para conocer su expansión más allá del consumo tradicional televisivo y el engagement alcanzado. El método de trabajo combina la monitorización de distintas plataformas. Las conclusiones indican que la emisión de estos debates se produce a través de nuevas ventanas de distribución, originando un elevado índice de seguimiento en Twitter. Las estrategias de emisión de los grupos televisivos difieren.
[Abstract] Television electoral debates are considered one of the most relevant events during the election period due to their high audience and also because of the power they generate to direct the media agendas. The present research examines the transmission of this format in front the proliferation of screens, diffusion on the social networks, introduction of on demand services, and on the go consumption together with the emergence of new television performers. This quantitative study analyses the debates issued during the parliamentary elections in Spain, which took place on the 28th of April 2019, in order to learn about their impact further than traditional television consumption and the engagement achieved. The methodology employed combined the monitoring of different platforms. The conclusions obtained support that the emission of this kind of debates takes place through new distribution channels, generating a high tracking rate on Twitter. The broadcasting strategies of the television chains differ.
Keywords
Debates electorales
Elecciones
Televisión
Audiencia social
Comunicación política
Medios sociales
Redes sociales
Twitter
TVE
Atresmedia
España
Electoral debates
Election
TV
Television
Social audience
Political communication
Prosumers
Social media
Social networks
Spain
Editor version
Rights
© El Profesional de la Información
ISSN
1699-2407
Related items
Showing items related by title, author, creator and subject.
Barbeito Torrente, Silvia

(

2016-09

)

[Resumen] Introducción: La familia es un elemento clave en el proceso de recuperación en personas con trastorno mental grave, siendo proveedora de información útil para la recuperación de la persona y proporcionando apoyo ...

Modroño Alborés, Paula

(

2019

)

[Resumen] El presente trabajo pretende realizar un análisis documental acerca de las monedas sociales dentro del contexto español, profundizando en la iniciativa de los Bancos del Tiempo en la ciudad de Vigo. En este último ...

Díaz de la Rosa, Angélica

(

Universidade da Coruña

,

2007

)

[Resumen] El presente trabajo analiza el fenómeno de las cooperativas de iniciativa social en España, tanto desde un punto de vista de Derecho estatal como autonómico. Se incide especialmente en el concepto de cooperativa ...