Código da non-violencia para o deporte e para a vida. Un recurso para sensibilizar sobre a violencia no deporte e a violencia de xénero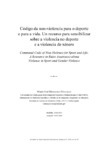 View/Open

Except where otherwise noted, this item's license is described as Atribución-NoComercial-SinDerivadas 3.0 España
Collections
Title
Código da non-violencia para o deporte e para a vida. Un recurso para sensibilizar sobre a violencia no deporte e a violencia de xénero
Alternative Title(s)
Code of Nonviolence for Sport and Life. A Resource to Raise Awareness about Violence in Sport and gender violence
Author(s)
Date
2019
Citation
Mosquera-Gónzalez, M.J. (2019). Código da non-violencia para o deporte e para a vida. Un recurso para sensibilizar sobre a violencia no deporte e a violencia de xénero. Anuario da Facultade de Ciencias do Traballo da Universidade da Coruña, 9, 43-67
Abstract
[Resumo] Este texto presenta o Código da non-violencia para o deporte e para a vida, así como a súa conexión co marco conceptual da non-violencia e coa teoría dos ámbitos intercondicionantes, que foi deseñada para explicar a aparición da violencia a partir da ordenación das súas causas nos ámbitos de procedencia correspondentes. O obxectivo deste código non é outro que presentar e describir a cultura deportiva da non-violencia, un modelo en positivo que axude a reflexionar sobre as formas de actuar, pensar e sentir no deporte e na vida en relación coa violencia, e en particular tamén sobre a violencia de xénero. Dado que o devandito código se formula no formato dun cuestionario, resulta un instrumento práctico que pode ser utilizado por docentes, adestradores/as, directivos/as, xogadores/as, alumnado ou calquera persoa interesada doutros campos laborais, coa oportuna adaptación. Dunha maneira especial, permítelle ao/á profesional da educación física ter coñecemento sobre a violencia no deporte, incluídas as condutas de machismo cotián con categoría de violencia de xénero, debidas ás diferenzas de status e dereitos das mulleres e os homes na sociedade e no deporte patriarcais. Tamén é posible entendelo como formulario de observación de compañeiros/as, alumnado, adestradores/as, outros/as profesionais e persoas en xeral; só hai que pensar no que a persoa observada contestaría. Unha vez respondido o cuestionario é posible detectar as condutas con que se está de acordo ou en desacordo, mais tamén as que non se levan a cabo (dobre moral) aínda que se manifeste acordo. Por tanto, quedan identificadas as tarefas pendentes para mellorar no futuro. Finalmente, ofrécese nel un contrato e un carné da non-violencia para demandar o compromiso da persoa que o contestou e crear identidade de grupo, o Club da Non-violencia.
[Abstract] This text presents the Code of Nonviolence for Sport and for Life, as well as its connection with the conceptual framework of Nonviolence and with the Theory of Interlocking Spheres, which was designed to explain the emergence of violence from the ordering of causes in the corresponding fields of origin. The aim of this code is to present and describe the sports culture of nonviolence, a positive model that helps to reflect on the ways to act, think and feel about sport and life in relation to violence, and in particular also about gender violence. Since the Code is in a questionnaire format, it is a practical tool that can be used by teachers, coaches, managers, players, students or anyone interested in other fields of work, prior adaptation of the contexts. In a special way, it allows the practitioner of Physical Education to have knowledge of violence in the sport; including in it the behaviours of daily machismo with category of gender violence, because of differences in the status and rights of women with respect to men in society and in patriarchal sport. It is also possible to understand it as an observation form for peers, students, coaches, other professionals and people in general; one only has to think if the person observed would express agreement or disagreement. Once the Code has been answered, it is possible to detect the conduct with which there is agreement or disagreement, but also those which are not carried out (double standards) although I agreed. Remaining tasks for future improvement are therefore identified. Finally a contract and a nonviolence card are offered to demand the commitment of the person who has responded to the questionnaire and create group identity, the Club of Nonviolence
Keywords
Violencia no deporte
Non-violencia
Violencia de xénero
Deporte
Código
Violence in sport
Non-violence
Gender violence
Sport
Code
Rights
Atribución-NoComercial-SinDerivadas 3.0 España
ISSN
2173-9811
Related items
Showing items related by title, author, creator and subject.
Freire Vázquez, Marta

(

2017

)

[Resumen] Este estudio tiene como objetivo principal explorar el fenómeno de la violencia de género que han experimentado un grupo de mujeres mayores de un entorno rural, profundizando en sus percepciones y vivencias de ...

Regueiro Mosquera, Lucía

(

2019

)

[Resumen] Introducción: La violencia, independientemente del debate que existe sobre su naturaleza, es un problema, no siempre visible y que afecta a la salud de las personas que la sufren. Es frecuente dentro de la ...

Pérez Pallas, Lara

(

2015

)

[Resumen] La violencia doméstica, como una de las manifestaciones de la violencia de género, es un fenómeno social de largas raíces históricas. No se trata de un fenómeno exclusivo de un grupo o clase social, sino de una ...