Las cooperativas de iniciativa social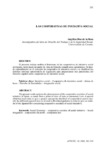 View/Open
Collections
Title
Las cooperativas de iniciativa social
Author(s)
Date
2007
Citation
Anuario da Facultade de Dereito da Universidade de A Coruña, 2007, 11: 201-210 ISSN: 1138-039X
Abstract
[Resumen] El presente trabajo analiza el fenómeno de las cooperativas de iniciativa social en España, tanto desde un punto de vista de Derecho estatal como autonómico. Se incide especialmente en el concepto de cooperativa de iniciativa social y se clasifican los distintos sistemas autonómicos de regulación para proporcionar una panorámica del Derecho español sobre cooperativas de iniciativa social.
[Abstract] The present work analyzes the phenomenon of the cooperative societies of social initiative in Spain, so much from a point of view of state as autonomic Law. A special effort has been done to give a proper concept for this kind of cooperatives and to classify the different regional laws in several well-defined patterns in order to give an outlook of the Spanish law concerning cooperative societies of social iniciative.
Keywords
Iniciativa social
Cooperativa de iniciativa social
Ánimo de lucro
Derecho de sociedades
Integración social
Social economy
Cooperative societies of social initiative
Social integration
Corporation for profit
Companies law
ISSN
1138-039X
Related items
Showing items related by title, author, creator and subject.
Barbeito Torrente, Silvia

(

2016-09

)

[Resumen] Introducción: La familia es un elemento clave en el proceso de recuperación en personas con trastorno mental grave, siendo proveedora de información útil para la recuperación de la persona y proporcionando apoyo ...

Modroño Alborés, Paula

(

2019

)

[Resumen] El presente trabajo pretende realizar un análisis documental acerca de las monedas sociales dentro del contexto español, profundizando en la iniciativa de los Bancos del Tiempo en la ciudad de Vigo. En este último ...

[Resumen]: Este documento examina la evolución del gasto en protección social de España comparado con el marco europeo entre 1980 y 2010, con los objetivos de analizar el origen y la evolución del déficit social español y ...