Maquiavelo y la religión de los romanos en el Libro primero de 1571 y el Libro segundo del Espejo del perfecto príncipe cristiano de Francisco de Monzón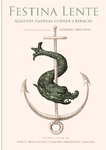 Collections
Title
Maquiavelo y la religión de los romanos en el Libro primero de 1571 y el Libro segundo del Espejo del perfecto príncipe cristiano de Francisco de Monzón
Alternative Title(s)
Machiavelli and the Religion of the Romans in the Libro primero of 1571 and the Libro segundo del Espejo del perfecto príncipe cristiano by Francisco de Monzón
Author(s)
Date
2019
Citation
Fernández Travieso, C.‏ (2019). "Maquiavelo y la religión de los romanos en el Libro primero de 1571 y el Libro segundo del Espejo del perfecto príncipe cristiano de Francisco de Monzón". En: Fernández Travieso, C., Pena Sueiro, N., eds. Festina Lente. Augusta empresa correr a espacio. Studia in honorem Sagrario López Poza. A Coruña, Universidade da Coruña, pp. 95-112. https://doi.org/10.17979/spudc.9788497497374.095
Abstract
[Resumen] Francisco de Monzón —capellán y predicador en la corte Juan III de Portugal y catedrático de Teología de la Universidad de Coímbra— en su Espejo del perfecto príncipe cristiano tomó parte en el debate que mantuvo la élite cultural portuguesa sobre el valor de la religión de los romanos suscitado a partir de las palabras de Maquiavelo. Partiendo de los estudios de Marcocci (2008, 2012) que toman en consideración las ideas de Monzón en el Libro primero publicado 1544, el presente trabajo analiza la evolución de su posición en relación con las ideas del secretario florentino en la versión de este texto publicada en 1571, la cual fue objeto de profundas modificaciones debido a la influencia de la Contrarreforma. Asimismo, también se estudia este asunto en el menos conocido Libro segundo, un texto que no parece haber llegado a las prensas, probablemente, en parte, debido a la deriva de esta discusión.
[Abstract] Francisco de Monzón —chaplain and preacher in the court of John III of Portugal and professor of Theology of the University of Coimbra— in his Espejo del perfecto príncipe cristiano took part in the debate that the Portuguese cultural elite maintained about the value of the religion of the Romans aroused from Machiavelli's words. Starting from the studies of Marcocci (2008, 2012) that take into consideration the ideas of Monzón in the Libro primero published in 1544, this work analyzes the evolution of his position in relation to the ideas of the Florentine secretary in the text's version published in 1571, which was subject to profound modifications due to the influence of the Counter-Reformation. Likewise, this subject is also studied in the less known Libro segundo, a text that does not seem to have reached the presses, probably, in part, due to the drift of this discussion
Keywords
Espejo de Príncipes
Francisco de Monzón
Nicolás Maquiavelo
Contrarreforma
Siglo XVI
Literatura española en Portugal
Mirror for Princes
Niccolò Machiavelli
Counter-reformation
XVI century
Spanish literature in Portugal
Description
Colección: Homenaxes, nº 15
Editor version
Rights
© Los autores
Reservados todos los derechos. Ni la totalidad ni parte de este libro puede reproducirse o transmitirse por ningún procedimiento electrónico o mecánico, incluyendo fotocopia, grabación magnética o cualquier almacenamiento de información y sistema de recuperación, sin el permiso previo y por escrito de las personas titulares del copyright.
ISBN
9788497497367
9788497497374 (electrónico)