Desarrollo de híbridos viológeno-aminoácido para la funcionalización no covalente de péptidos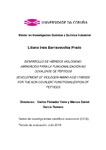 Title
Desarrollo de híbridos viológeno-aminoácido para la funcionalización no covalente de péptidos
Alternative Title(s)
Development of viologen-amino acid hybrids for the non-covalent functionalization of peptides
Author(s)
Directors
Peinador, Carlos
García, Marcos D.

Date
2019
Center/Dept./Entity
Universidade da Coruña. Facultade de Ciencias
Description
Traballo fin de mestrado (UDC.CIE). Investigación química y química industrial. Curso 2018/2019
Abstract
[Resumen]: Este trabajo de fin de máster se centra en la síntesis de derivados de viológenos con extremos aminoácido, es decir, derivados dialquilados de 4,4-bipiridina, para su posterior utilización en la síntesis en fase sólida de péptidos. Para ello se llevaron a cabo tres estrategias sintéticas distintas. En primer lugar, se utilizó una estrategia que implica la dialquilación sucesiva de la 4,4'-bipiridina, comprobándose la dificultad que presenta la obtención de dichos compuestos debido a la sensibilidad del grupo protector Fmoc al medio básico. Seguidamente, se efectuó una nueva aproximación, realizándose en primer lugar la reacción de Zincke entre una diamina monoprotegida como Boc y una sal activada de 4,4'-bipiridinio, seguida de una segunda etapa de alquilación del derivado obtenido. Por último, se propuso una nueva estrategia en la que se introduce el grupo ácido protegido como un éster. La caracterización de los compuestos se llevó a cabo por RMN (mono y/o bidimensional) y por espectrometría de masas.
[Abstract]: This end-of-master work focuses on the synthesis of new amino acids containing a viologen scaffold on their structures, that is, dialkylated 4,4-bipyridinium derivatives, for their later use in the solid phase synthesis of peptides. With this goal in mind, three different synthetic strategies were carried out. In the first place, a first strategy was employed that implies two successive alkylations on the 4,4'-bipyridine, verifying the difficulty of obtaining this type of compounds due to the sensitivity of the protective group to the basic medium. A new approach was then carried out, using in first place a Zincke reaction between an appropriate diamine monoprotected with Boc group, and an activated 4,4'-bipyridinium salt, followed by a second alkylation step on the obtained derivative. Finally, a new strategy was proposed, in which the protected acid group is introduced as an ester. The characterization of the obtained compounds was carried out by NMR (mono and/ or bi-dimensional) and by mass spectrometry, when necessary.
Keywords
Química supramolecular
Autoensamblaje
Química receptor-sustrato
Viológenos
Aminoácidos
Supramolecular chemistry
Self-assembly
Host-guest chemistry
Viologens
Amino acids
Rights
Os titulares dos dereitos de propiedade intelectual autorizan a visualización do contido deste traballo a través de Internet, así como a súa reproducción, gravación en soporte informático ou impresión para o seu uso privado e/ou con fins de estudo e de investigación. En nengún caso se permite o uso lucrativo deste documento. Estos dereitos afectan tanto ó resumo do traballo como o seu contido Los titulares de los derechos de propiedad intelectual autorizan la visualización del contenido de este trabajo a través de Internet, así como su repoducción, grabación en soporte informático o impresión para su uso privado o con fines de investigación. En ningún caso se permite el uso lucrativo de este documento. Estos derechos afectan tanto al resumen del trabajo como a su contenido