O sector da construción en Galicia: responsabilidade social empresarial e resultados financeiros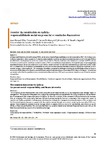 Except where otherwise noted, this item's license is described as Atribución-NoComercial-SinDerivadas 3.0 España
Title
O sector da construción en Galicia: responsabilidade social empresarial e resultados financeiros
Alternative Title(s)
El sector de la construcción en Galicia: responsabilidad social empresarial y resultados financieros
The construction sector in Galicia: Corporate social responsibility and financial results

Date
2019
Citation
VILAR FERNÁNDEZ, JUAN MANUEL, FE MARQUÉS, JAIME e VASALLO RAPELA, ALEJANDRO M. O sector da construción en Galicia: responsabilidade social empresarial e resultados financeiros. Revista Galega de Economía [en liña]. 12 September 2019, vol. 28, no. 1 pp. 40-56. Dispoñible en: http://www.usc.es/revistas/index.php/rge/article/view/6162. ISSN 2255-5951.
Abstract
[Resumo] A Responsabilidade Social da Empresa (RSE), tamén denominada Responsabilidade Social Corporativa (RSC), formúlase como un factor estratéxico clave na xestión. O obxecto deste traballo é analizar as relacións existentes entre os principios de RSE e a rendibilidade das empresas do sector da construción en Galicia. Para iso realízase unha revisión do concepto de RSE e da súa evolución; a continuación analízase a relación entre a RSE e os resultados empresariais a nivel global para empresas galegas representativas do sector da construción; e, por último, desenvólvense indicadores cuantitativos que permiten avaliar a xes-tión e o desempeño na empresa e contrástanse as formulacións teóricas cos resultados obtidos a través da modelización eco-nométrica para unha mostra de 100 empresas. A análise comparativa realízase a través da rendibilidade sobre activos ou económica (ROA, Return On Assets) e a rendibilidade, sobre fondos propios ou financeira (ROE, Return On Equity). Concluímos que existe unha relación positiva entre os rendementos financeiros e a RSE, polo que esta se consolida como fonte de vantaxe competitiva.
[Resumen] La Responsabilidad Social de la Empresa (RSE), también denominada Responsabilidad Social Corporativa (RSC), se plantea como un factor estratégico clave en la gestión. El objeto de este trabajo es analizar las relaciones existentes entre los princi-pios de RSE y la rentabilidad de las empresas del sector de la construcción en Galicia. Para ello se realiza una revisión del con-cepto de RSE y de su evolución; a continuación se analiza la relación entre la RSE y los resultados empresariales a nivel global para empresas gallegas representativas del sector de la construcción; y, por último se desarrollan indicadores cuantitativos que permiten evaluar la gestión y el desempeño en la empresa y se contrastan los planteamientos teóricos con los resultados obtenidos a través de la modelización econométrica para una muestra de 100 empresas. El análisis comparativo se realiza a través de la rentabilidad sobre activos o económica (ROA, Return On Assets) y la rentabilidad sobre fondos propios o finan-ciera (ROE, Return On Equity). Concluimos que existe una relación positiva entre los rendimientos financieros y la RSE, por lo que esta se consolida como fuente de ventaja competitiva.
[Abstract] The company's social responsibility, also called corporate social responsibility (CSR), is considered a key strategic factor in management. The purpose of this paper is to analyze the existing relationships between the CSR principles and the profitabil-ity of companies in the construction sector in Galicia. To this end, a review of the concept of CSR and its evolution is made; then, an analysis of the relationship between CSR and business results for Galician companies of the construction sector is carried out; finally, quantitative indicators are developed to evaluate the management and performance of the company and the theoretical approaches are compared with the results obtained through econometric modeling for a sample of 100 com-panies. This comparative analysis is done through return on assets (ROA,) or economic profitability, and return on equity (ROE), or financial profitability. We conclude that there is a positive relationship between financial returns and CSR, so the latter is consolidated as a source of competitive advantage.
Keywords
Responsabilidad social empresarial
Rendibilidade
Modelo de regresión lineal múltiple
Estratexia organizacional
Ética nos negocios
Responsabilidade social empresarial
Rentabilidad
Estrategia organizacional
Ética en los negocios
Corporate social responsibility
Profitability
Multiple linear regression model
Organizational strategy
Ethics in business
Editor version
Rights
Atribución-NoComercial-SinDerivadas 3.0 España
ISSN