Un Análisis de la Formación Terciaria entre los Trabajadores Dependientes e Independientes: El Caso de Portugal (2006-2016)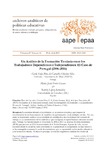 Except where otherwise noted, this item's license is described as Atribución-NoComercial-SinDerivadas 3.0 España
Collections
Title
Un Análisis de la Formación Terciaria entre los Trabajadores Dependientes e Independientes: El Caso de Portugal (2006-2016)
Author(s)
Date
2019
Citation
Pires de Carvalho Oliveira Silva, C. S., Freire-Seoane, M. J., & López-Bermúdez, B. (2019). Un análisis de la formación terciaria entre los trabajadores dependientes e independientes: El caso de Portugal. Archivos Analíticos de Políticas Educativas, 27(46). http://dx.doi.org/10.14507/epaa.27.3912
Abstract
[Resumen]: La inserción laboral de la población es un proceso complejo, que requiere la consideración de un buen número de variables y la aproximación desde múltiples niveles. Por una parte, es importante analizar este procedimiento atendiendo a las condiciones del mercado de trabajo y a las características de los individuos que configuran el capital humano existente en cada país. Portugal ha experimentado en el periodo de 2006 a 2016 un proceso de crisis económica (2008), que provoca en 2011 la intervención de la Unión Europea. A pesar de todo, en este contexto donde la situación socio-económica se ve perjudicada la recuperación se hace latente y se ha conseguido mantener la senda de crecimiento, que ha repercutido en los niveles educativos y en la inserción laboral. El objetivo principal de esta investigación es analizar los niveles de educación terciaria alcanzados por la población ocupada en el periodo 2006 a 2016, diferenciando entre trabajadores contratados por cuenta ajena (dependientes) o por cuenta propia (independientes).
[Abstract]: The labor insertion of the population is a complex process, which requires the consideration of a good number of variables and the approach from multiple levels. On the one hand, it is important to analyze this procedure according to the conditions of the labor market and the characteristics of the individuals that make up the existing human capital in each country. Portugal has experienced in the period from 2006 to 2016 a process of economic crisis (2008), which provoked in 2011 the intervention of the European Union. In spite of everything, in this context where the socio-economic situation is impaired, the recovery becomes latent and the growth path has been maintained, which has had an impact on educational levels and labor insertion. The main objective of this research is to analyze the levels of tertiary education reached by the employed population in the period 2006 to 2016, differentiating between workers hired by third parties (dependents) or self-employed (independent).
[Sumário]: A inserção laboral da população é um processo complexo, que requer a consideração de um bom número de variáveis e a abordagem de múltiplos níveis. Por um lado, é importante analisar esse procedimento de acordo com as condições do mercado de trabalho e as características dos indivíduos que compõem o capital humano existente em cada país. Portugal experimentou no período de 2006 a 2016 um processo de crise económica (2008), que provocou em 2011 a intervenção da União Europeia. Apesar de tudo, neste contexto em que a situação socioeconômica é prejudicada, a recuperação torna-se latente e a trajetória de crescimento se mantém, o que impactou os níveis educacionais e a inserção do trabalho. O principal objetivo desta pesquisa é analisar os níveis de ensino superior atingidos pela população ocupada no período de 2006 a 2016, diferenciando entre trabalhadores contratados por terceiros (dependentes) ou autônomos (independentes).
Keywords
Mercado laboral
Formación terciaria
Capital humano
Labor market
Tertiary education
Human capital
Mercado de trabalho
Educação terciária
Rights
Atribución-NoComercial-SinDerivadas 3.0 España
ISSN
1068-2341